What Is RaiseMe for Community College Students?
Here's how to get your community college students on a successful path to Associate's degree completion and transfer to a four-year college with RaiseMe.
As someone that worked in community colleges for over a decade, I had the privilege of witnessing countless success stories, along with the struggles my students faced. I watched students wrestle with the difficult questions of: How will I stay on track academically? How will I balance school, work, and my family? How am I going to pay for all of this?
All of those are valid feelings, and navigating higher education isn't an intuitive task, especially for students who might be historically underserved. Unfortunately, while 80% of community college students aspire to transfer, only 20% are successful. RaiseMe is here to help close the transfer achievement gap, provide financial transparency, and help students build confidence in their abilities.
RaiseMe for Community College Students
RaiseMe seeks to empower students and educators by providing the opportunity to earn micro-scholarships from transfer colleges for hitting incremental academic and co-curricular milestones while completing an associate's degree. Our intention is to provide students with a clear roadmap of habits and achievements they can aim for that will help them stay on track for completion, and eventual transfer, starting in their first semester of community college. Students use our free online portfolio to log their grades, work experience, college visits, volunteer work, and more.
Each time a student enters an achievement, which can be as small as getting an "A" or "B" in a course, they earn small scholarships in real time directly from four year colleges. As students log more achievements they can earn more scholarship money, motivating them, and affirming that they are a "scholarship student". This approach is based in Nudge Theory, which suggests that tackling large tasks with multiple, smaller "nudges" makes us more likely to be engaged, and less likely to feel overwhelmed by one large goal.
The scholarships that students see on RaiseMe are awarded directly from four year colleges, and represent the minimum amount of merit aid a student will receive when admitted to a college. This way, there are no surprises, and much more transparency about how small choices ladder up to real financial support.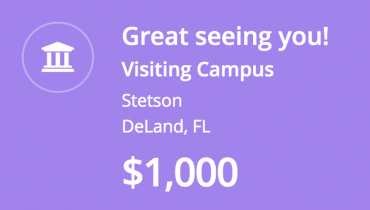 Students can also use RaiseMe to research colleges, build a college list, and keep track of the institutions where they want to apply. We know early transfer research, and exploring a variety of schools, helps students find their best match transfer institution.
RaiseMe for Community College Educators
Additionally, RaiseMe offers a free platform for community college educators that allows you to:
View the portfolios of your RaiseMe students, including their community service, student organizations, and work experience.
See how much your students are earning, and what colleges they are interested in transferring to.
Access free curriculum that can help your student learn about transfer planning, financial aid, and more!
Invite your students to join RaiseMe, right from your dashboard.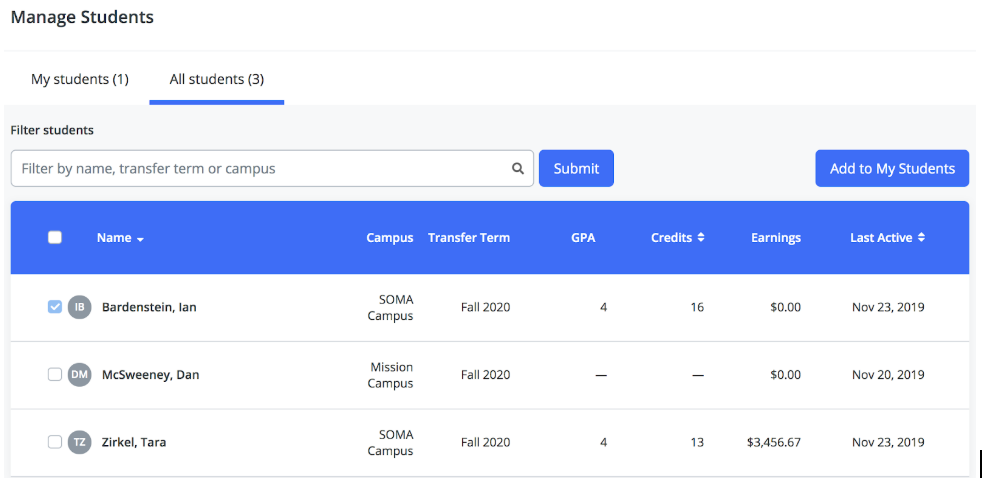 Educators can request accounts here, using your institutional email address: www.raise.me/educator.
Want to get your students started? We have developed our Transfers Marketing Toolkit which contains materials that you can use for:
New student orientation efforts, both online and in person
First year experience courses
Including RaiseMe on your website
Announcing RaiseMe on social media
Making announcements in your courses or syllabus
Sending email or text invitations to students
Incorporating RaiseMe into your transfer fairs and workshops
Having flyers on hand in your advising office
RaiseMe wants to partner with your community college, for free, to learn more about your goals around completion and transfer. RaiseMe partner schools have access to additionally coaching and resources, along with data on how your students are progressing. To learn more about partnering with RaiseMe contact us at ccinfo@raise.me.

You may also like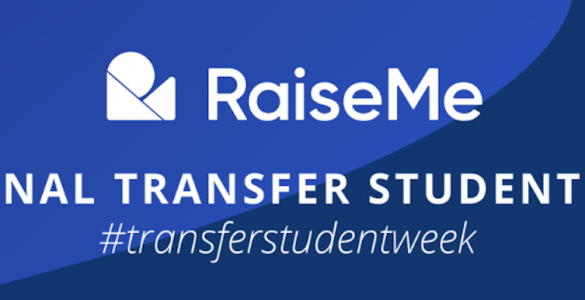 Join RaiseMe in celebrating National Transfer Student Week October 19th-23rd. This is a week to celebrate our students, connect them with resources, and to...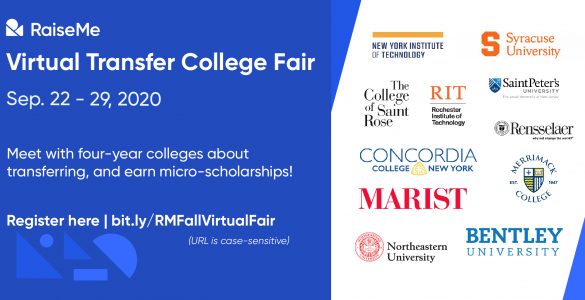 During RaiseMe's Virtual Transfer Fair, community college students can earn micro-scholarships for visiting with colleges, right from home. Students: we know it has...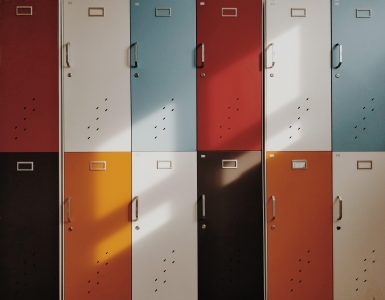 A comprehensive overview for getting your high school students started with RaiseMe.