Creating Momentum: Motivate Community College Students Early in the Semester
Learn a few ways to motivate community college students early on in the semester using RaiseMe.
If your campus is anything like the ones I've worked at, this is the time of year when the new semester dust begins to settle, and many students hit their stride. Other students might need a hand to keep on track, especially if they are feeling overwhelmed. Evidence shows that the more early academic and extracurricular momentum points a student hits the more likely they are to retain (Belfield, Jenkins, & Fink, 2019). RaiseMe motivates students to hit early momentum points by incentivizing good grades, taking full course loads, adding math courses, and being on track to graduate.
Here are three ways that RaiseMe builds early momentum and long-term retention in community college students:
Rewarding good grades, especially in math courses:

Students earn micro-scholarships for each "A" or "B" grade they receive, which gives them an immediate goal to strive for. Some RaiseMe partner colleges even award bigger scholarships for earning good grades in individual math courses. We know completing math sequences are tied to completion.

The longer you retain, the more you earn:

Since micro-scholarships are small awards that accumulate over time. This means the longer the student persists at your community college, the more opportunities they have to earn. The student who retains through their associate's degree is positioned to earn the most, which is a powerful motivator in degree completion.

Incentives for taking larger course loads:

Many community colleges are encouraging students who are able to complete 30 credits per year. With RaiseMe, students earn micro-scholarships for each full-time semester they enroll in.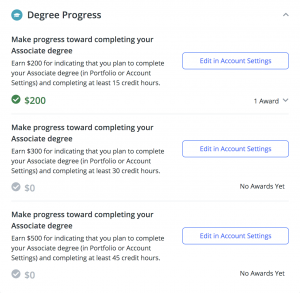 Our goal is to help you build the momentum students need to persist, complete, and transfer, while removing financial barriers that might limit their ambitions. Students are up against a lot, and we want to give them as many high fives as possible along the way. You can use our Community College Educator Toolkit to get your students started. For information on how your community college can partner with RaiseMe (for free!) contact us at ccinfo@raise.me.
You may also like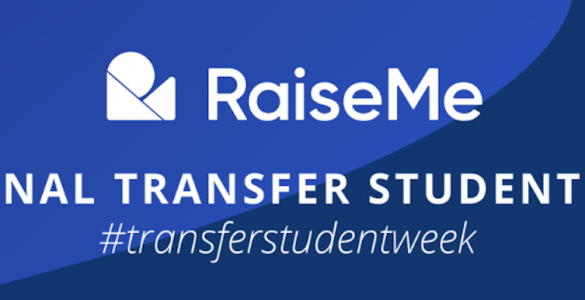 Join RaiseMe in celebrating National Transfer Student Week October 19th-23rd. This is a week to celebrate our students, connect them with resources, and to...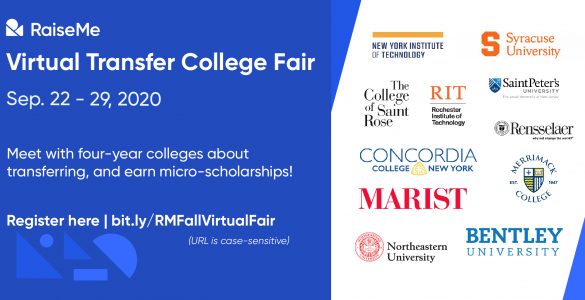 During RaiseMe's Virtual Transfer Fair, community college students can earn micro-scholarships for visiting with colleges, right from home. Students: we know it has...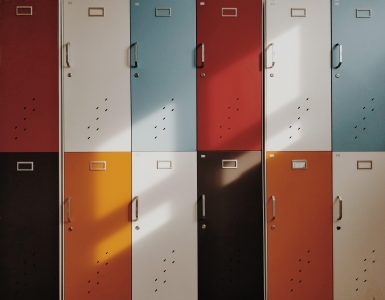 A comprehensive overview for getting your high school students started with RaiseMe.