What Do Students Think About RaiseMe?
An inside look at student feedback on RaiseMe's platform: look inside to learn how motivation, transparency, and information create an impactful experience that drives student results.
Learn how RaiseMe works in this 2 minute video.
RaiseMe's mission is to help all students realize and achieve their college ambitions. The student experience is at the core of our work and feedback is critical to ensuring our product offers students what they need. Each year, RaiseMe's team surveys students who have used the platform to gather data and insights so the RaiseMe team can continue enhancing the student experience with micro-scholarships. RaiseMe also works with a group of student ambassadors who have volunteered to share more about their experiences using RaiseMe and empower other students to take advantage of the resource.
As feedback has rolled in over the last few months, we've observed three recurring themes for why students value their experience with RaiseMe.
Motivation to do your best
Students feel motivated by the platform to do well in the classroom and engage outside of the classroom. This extra push could mean registering for an AP course, joining an extracurricular activity that sparked interest, or attending a college fair to learn more about an institution from admission counselors.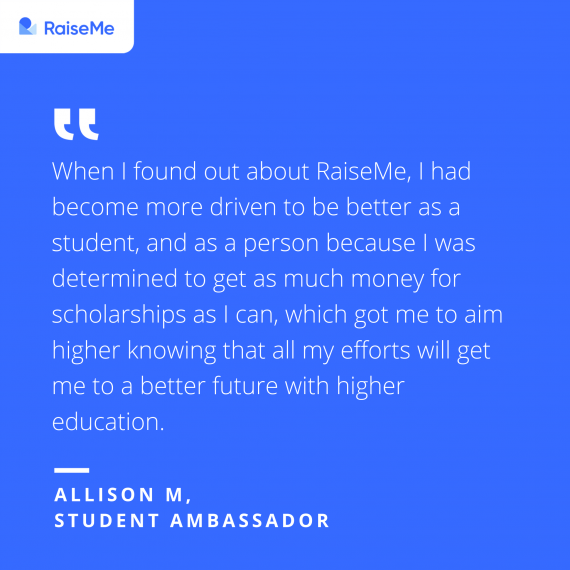 Bella, a senior student, says:
RaiseMe illustrated the hardwork and effort I've put into my high school career by displaying monetary values on the work I've done so far. It not only made me proud of the work I've put it in, but also kept me motivated to keep up the good grades in order to earn micro-scholarships. RaiseMe gave me the college options I was looking for, and helped determine what school I will be attending by showing the potential cost for each tuition. That was an enormous deciding factor in my college decision process, and with RaiseMe, I was able to narrow down what colleges are for me and how it's going to affect my future.

High school senior Bella
Receiving instant feedback and encouragement within the RaiseMe platform has given many students a new confidence in their abilities and in their college search process.
Alexis, a student ambassador, says:
RaiseMe has been a very encouraging factor in my ongoing search for colleges. It provides confidence in my abilities and achievements as well as helps me hope for the best in upcoming years of high school. When I look at colleges and see the money potentially available to me, a whole new world of possibility seems to open up.

Student ambassador Alexis
A stronger understanding of college financing
RaiseMe helps students and families understand that academic scholarships are available that make institutions more affordable than their listed sticker price. The RaiseMe platform has relieved the stress of finances for many students, which allows them to focus that energy on their passions and doing well in school.
Alissa G, a student ambassador, says:
RaiseMe has showed me how many options I really have when it comes to college, no matter the cost there are many scholarships starting from as little as $10 to thousands and every dollar counts. [RaiseMe made] me more educated on how to make college happen. It also helped me see what colleges fit me best to make the choosing process easier, as some colleges have higher scholarships for me specifically based on my classes, grades etc. RaiseMe makes high school students feel like the classes they take are worth it and really working towards college in a way I've never known.

Student ambassador Alissa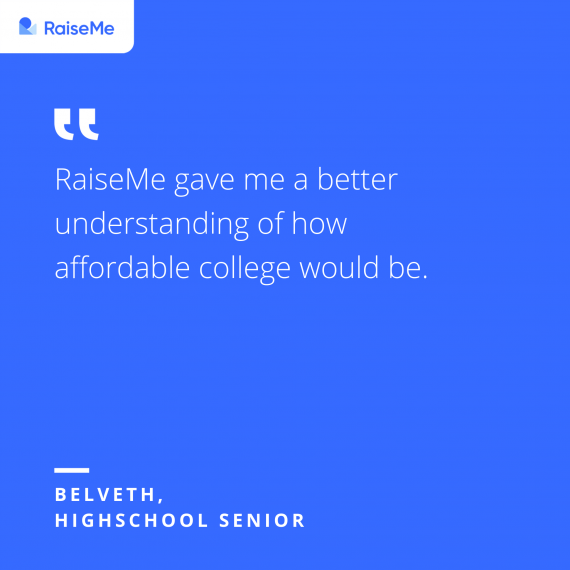 A clear connection between day-to-day choices and the future
Providing a roadmap with tactical steps to become a competitive applicant at specific colleges and universities is crucial for students to connect their daily efforts with their longer-term goals. RaiseMe helps students understand that the decisions they make early on have an impact on their future and encourages them to think ahead and plan.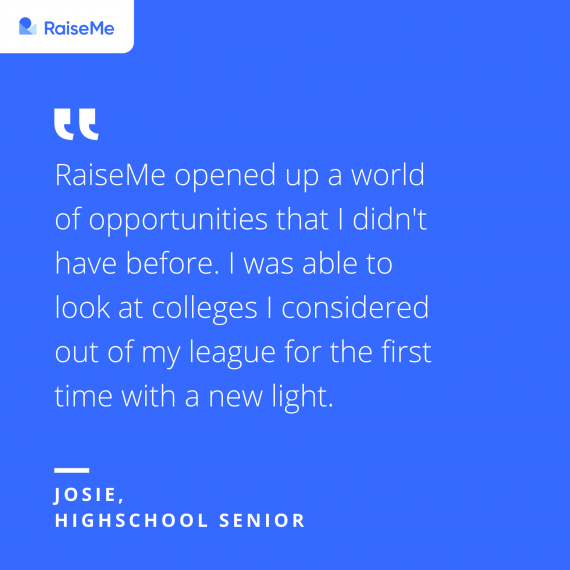 Qurian, a senior student, says:
RaiseMe really helped me realize that I can go to college and that there is an opportunity for me to do something in my future and live my dream.

High school senior Qurian
By making this connection earlier on, students are finding they have information that helps them to find a school that will be the best fit for them.
Adam, a senior student, says:
RaiseMe helped me discover colleges that would reward me for my hard work in high school, and also enabled me to explore my college options to understand the schools that were the best fit for me.

High school senior Adam
Layla, a senior student, says
RaiseMe helped me discover more colleges that matched well with what I was looking for.

High school senior Layla
To help students achieve their dreams of attending college, it's critical they feel motivated to set themselves up for the future and have all of the information they need to prepare for college and understand the cost of higher education.
Terrence, a student ambassador, says:
College is important to me because it can help shape my future and help me achieve my goals in life.

Student ambassador Terrence
The RaiseMe platform aims to increase transparency around institutional financial aid and scholarships so that students are better equipped to make the best choices for themselves. Students are able to discover and "follow" colleges and universities that they are considering applying to in the future. Students also maintain a portfolio of accomplishments like grades and leadership roles they've achieved. As students log achievements throughout high school, they see these entries tied to micro-scholarship earnings awarded by partner college programs. Micro-scholarship earnings represent an early indication of the scholarships or grants students can expect to receive from partner colleges should they apply, be admitted, and ultimately enroll at the given institution.
Want to learn more about how RaiseMe can support your student engagement and success goals? Get in touch.
You may also like New transfer success initiative will reward students with financial aid awards for strong academic performance, and on-time... The higher ed industry is reacting to a rapidly changing student search landscape. In a very short period of time, admission offices across the US shifted tours, events,...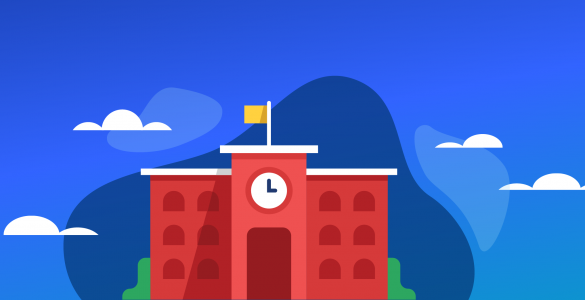 It's time to rethink how your university's enrollment team is utilizing student search next fall in the wake of COVID-19.