A Higher Ed Guide to Social Media During COVID-19
Discover ways that you can utilize popular social media platforms to connect and support students during COVID-19.
Social media has long been a valuable way for schools to connect with students. Given the current situation with COVID-19, though, colleges and universities must consider social media a critical element of their engagement programs, and potentially change or augment how they're using each platform
Our RaiseMe College Advisory team joined forces with our Marketing team to put together a guide to today's most popular social media platforms and how higher ed institutions can use them to connect with students in new ways.
TikTok
How do students use this platform?
Perhaps the "trendiest" of platforms right now, TikTok is a platform that was originally known for its lip-syncing and dancing videos. It now has over 500 million users filming and watching all types of short 15-second videos. The app is also known for its young audience, being very popular with students.
How can colleges use TikTok right now?
Throughout the year colleges can use TikTok as a way to share campus culture and create fun and funny content. RaiseMe Partner University of Florida was one of the first colleges to use TikTok, and is known for its innovative approaches on the platform.
Consider creating a student ambassador program for TikTok, having students highlight parts of their new virtual visit days.
Create a #TBT campaign to highlight some short segments of campus favorites
RaiseMe Partner Tip: The University of Florida uses fun sports videos to promote college pride
Other popular inside knowledge to consider
TikTok is known for its humor and creativity. It is proven to be an important influence in social media (even the Washington Post is doing it!) Many universities are seeing TikTok as a way to connect with students earlier, given that 16.2 million TikTok users are under 25.
Instagram
How do students use this platform?
Instagram has been around for 10 years, so for most high school students they grew up with Instagram around them. The largest group of Instagram users are aged 18-24. Like most users on Instagram, students use the app to connect and discover people and interests.
How can colleges use Instagram right now?
Instagram has been a great place for universities to share snippets of campus culture and showcase different aspects of campus life. Right now it's still important to share campus culture as well as other resources and support.
Showcase how you are supporting students and families during this time
Emphasize the importance of mental health & community. Consider highlighting your student health center, or virtual community events that your campus is hosting.

Let the students speak!

It's super important to allow your current students to paint the story of your campus culture.
Create a hashtag series of current students showing their favorite things about your campus.
Create visually appealing and positive messages!
RaiseMe Partner Tip: Consider creating a social calendar for each month and include timely ways students can earn micro-scholarships at your institution to add to your school's Instagram Stories, like Concordia College-New York's post about virtual micro-scholarships: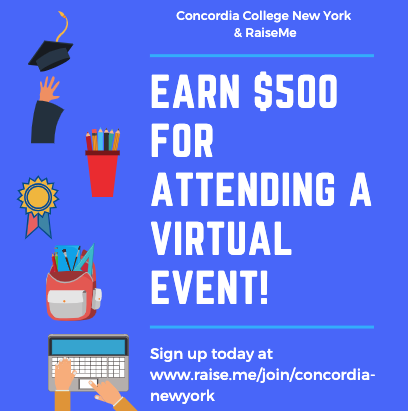 Facebook
How do students use this platform?
Now less dominant within teen groups over the last couple of years, Facebook is still common for many high school students and parents. Although students might not be active every day, Facebook is still a hub for students viewing and engaging with news, articles, events and groups.
How can colleges use Facebook right now?
Facebook is a great option to share more detailed information and resources for both students and families.
Create an admitted families group, admitted students group, or a virtual visit group for high school juniors
Host live Q&A answer sessions
Post resources or FAQs for students and parents to reference
RaiseMe Partner Tip: Bethune-Cookman University has been live-streaming admissions events from campus using Facebook Live's video streaming capability.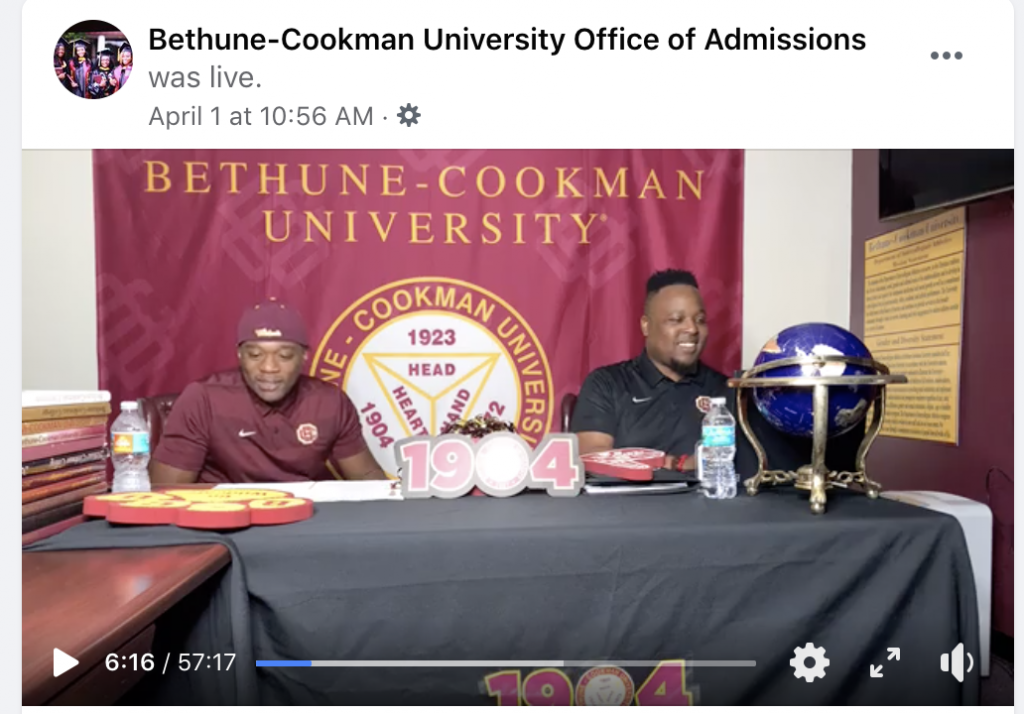 YouTube
How do students use this platform?
Although not as strictly a "social media" platform, Youtube is a discovery tool for most students in their virtual learning environment, before COVID-19 and especially important right now. It's become a critical part of their virtual college discovery.
How can colleges use YouTube right now?
You obviously can't go to campus right now to create new content. However, this doesn't mean you can't utilize old content and create new content while not on campus.
Create virtual visit days live on YouTube– giving similar resources and information as you would during typical visit days
Ask student ambassadors for video content and create a student-made flashback tour
Tap faculty and staff for fun and creative YouTube videos of classes– invite applicants to sit in on a live class!
RaiseMe Partner Tip: Hillsdale College put together an education series for tips for parents and educators teaching K-12 literature.
Snapchat
How do students use this platform?
90% of Snapchat users are aged 13-24, and most users go on more than once a day. Most teenagers report that Snapchat is their preferred social media platform. Students use Snapchat to follow friends, celebrities, groups, etc.
How can colleges use it right now?
We know that students like photos, for 67% of teens it is the social media they find most interesting. Snapchat can be a way to share both photos and videos.
Photos don't have to be as glamorous as Instagram, share photos that are relevant to the moment, and have fun with it– try a lens or filter!
Use student-generated photos and videos
Take polls from students, these polls can help inform your content
Drive students to relevant links or videos
RaiseMe Partner Tip: West Virginia University ran a #takebacktuesday campaign, that allowed students to apply to run their Snapchat account for the day.

Twitter
How do educators use Twitter inform students?
Twitter has an audience of students, however, you may want to consider using Twitter to engage high school educators. Over the past couple of years, Twitter has become more and more popular among educators as a way to connect with their peers and communicate with students and parents. Engaging high school educators over Twitter allows them to access your university's resources, and provides insights and support for their students about your university and going to college in general.
How can colleges use Twitter right now?
Provide support for the education community and resources for both students and high school educators.
Share links to student stories
Share links to your resources — consider including both admissions resources and COVID-19 resources.
Give examples of how your institution is switching to virtual learning
Ask educators and families what they need support for right now
RaiseMe Partner Tip: Tweet to drive students to start earning micro-scholarships with a message like: "Calling all high school students! Sign up for @RaiseLabs and earn scholarships from [COLLEGE] . It's never too early to plan for the future. Raise.me/join/xxxx"
Looking for more tips on utilizing specific social media platforms? Contact your Partner Success Advisor or the RaiseMe team directly here.
You may also like New transfer success initiative will reward students with financial aid awards for strong academic performance, and on-time... The higher ed industry is reacting to a rapidly changing student search landscape. In a very short period of time, admission offices across the US shifted tours, events,...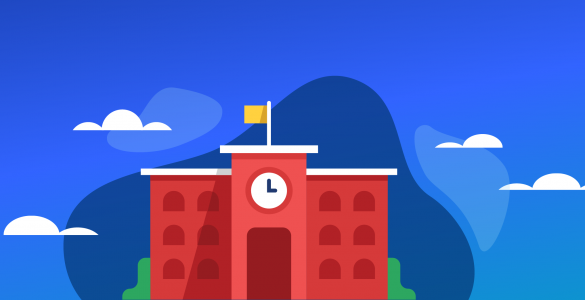 It's time to rethink how your university's enrollment team is utilizing student search next fall in the wake of COVID-19.