5 Ways to Rethink Your College's Social Media Strategy During COVID-19
Discover how you can utilize social media to better support students during this time, and connect with students virtually in their admissions journey.
Before the novel coronavirus, social media was one of the many ways college admission teams engaged with students to support their admissions processes. However, now with students shifting to a virtual learning environment, admissions teams must bring them a virtual college discovery process. Suddenly, social media is a critical way (if not one of the most critical ways) to reach students right now in their admissions journey. With boots-on-the-ground tactics not a feasible option for engaging students, social media has become all the more important, and strategies must shift to better support students during this moment.
RaiseMe's College Partner Advisory team has put together some ways you can re-think your social media strategy to better support students right now and through the upcoming admissions process.
1. Re-align general social media strategy and process
Today is not the same as yesterday, so the social media tactics you had last month won't fit this situation and won't have the impact you intended. In the hyper-noisy social media world, identify focus points for your social media messaging. For example, you could highlight support and campus culture. Build your social media plan to ladder up to these focus points..
As a part of this re-alignment, consider improving your social media process and resourcing. You likely don't have social media experts to plan elaborate posts for every medium, but you can create a general guideline for different social media platforms and consider doing a content audit. Utilize admissions counselors who are social media savvy to be an expert on a specific platform like Instagram. Ask admissions counselors who are looking for a creative outlet to focus on content creation.
2. Communicate your support resources for students & families
Remember that right now students and families need help navigating all aspects of the college readiness process. Think about how you can use social media to better communicate with and support students and families. Showing prospective students and families the resources and support you are providing current students at this moment, can be helpful and reassuring.
Check out this resource students put together to help combat COVID-19:
Consider highlighting your student mental health center and provide some tips from the center to showcase on your social media accounts. Share more information on the resources and support a student can expect when they finally get to campus.
3. Give tangible steps and action items
Students are influenced by social media for many of their decisions, including where they decide to go to college. For quick communications like that on social media, tangible steps for students can provide clarity and encourage action. Decide which information is most important for prospective students to see right now, then create a content plan that addresses those steps.
You can use Snapchat or Instagram to highlight specific links, and for more constructive advice consider holding live sessions on Facebook or Instagram for students to ask questions. You may also want to have different content for parent groups.
RaiseMe Partner Tip: Use Instagram Stories to post photography and video of your campus and promote virtual tours, and offer micro-scholarships to students for completing virtual college interactions on RaiseMe to engage them digitally on multiple platforms.
4. Highlight community & create community
We know that during COVID-19 students are looking for community. They want those connections that they may be missing from school or from college visits. Create opportunities via social media for students to connect.
Develop different content for different groups of students. This could include content geared towards different grade levels (e.g., application tips for juniors, or incoming student advice for seniors). Create a group for students that were scheduled for a campus tour and can no longer come. You may also want to consider creating an admitted student group on Facebook if you have yet to do so, and promote the group using hashtags.
Additionally, use this time to highlight the different communities that students can find once they are on campus…this is a chance for you to engage them, and for them to engage with each other before they ever step foot on campus.
5. Be fun & creative when presenting your campus culture
Social media is a great way for you to present your campus culture. With so much COVID-19 news out there, presenting your culture in a fun and creative way can be a nice break in a student's social media timeline.
Check out the way Northeast Community College promotes its dog-friendly virtual classes:
This is the time to let your inner designer and fun side come out! Create content that is short, snappy and visually appealing.
Looking for more tips on utilizing social media as a part of your communications flow? Contact your Partner Success Advisor or the RaiseMe team directly here.
You may also like New transfer success initiative will reward students with financial aid awards for strong academic performance, and on-time... The higher ed industry is reacting to a rapidly changing student search landscape. In a very short period of time, admission offices across the US shifted tours, events,...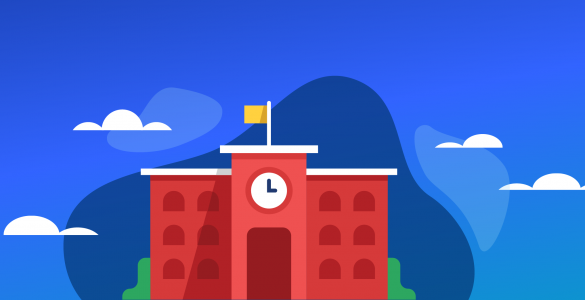 It's time to rethink how your university's enrollment team is utilizing student search next fall in the wake of COVID-19.