How I Made It To College with Gisselle of University of Chicago
From family encouragement to teacher support, this is my story of How I Made it to College.
For first-generation students, the road to college can be foggy and uncertain. How do I pay for college? What do I need to accomplish in high school to be a strong applicant? Where should I apply? But that road to college becomes a lot brighter with a support system to help steer you along your path. In this next installment of How I Made it to College, RaiseMe student, Gisselle, explains how her support group played an enormous role in helping her get to her dream school of the University of Chicago. As her mom helped her manage stress at home and her teachers supported her with college insights and resources, Gisselle felt empowered to get to where she wanted to be — college.
From family encouragement to teacher support, this is my story of
How I Made it to College

.
Meet Gisselle.
I'm Gisselle Hernandez. I'm 19 years old. I'm from Houston Texas and I go to the University of Chicago where I am going to be a sophomore.
I like to read in my free time, like nonacademic reading. I like to read nonfiction by famous people. I think they are really inspirational. I like to bake. I love to walk my dog when I'm home.
Where Gisselle started.
Both of my parents are immigrants from Mexico. I think that shaped a lot of my educational goals, because they always pushed me to go to college, since they themselves didn't go to college, or even finish high school. They always encouraged me to graduate high school and go to college so that I could have a better life than they had — so from a very young age, I always wanted to go to college.
Parents encouraged a better life for children.
My parents always struggled with money. They've always been able to get by, but it has still been a struggle. They don't want it to be like that for us, my siblings and me. They've told us of how going to school will help open doors to more opportunities of whatever we want. They told us of how when they were little, they had dreams of having these careers, but they weren't able to do that. They want us to be able to have the careers that we want which can be accomplished through education.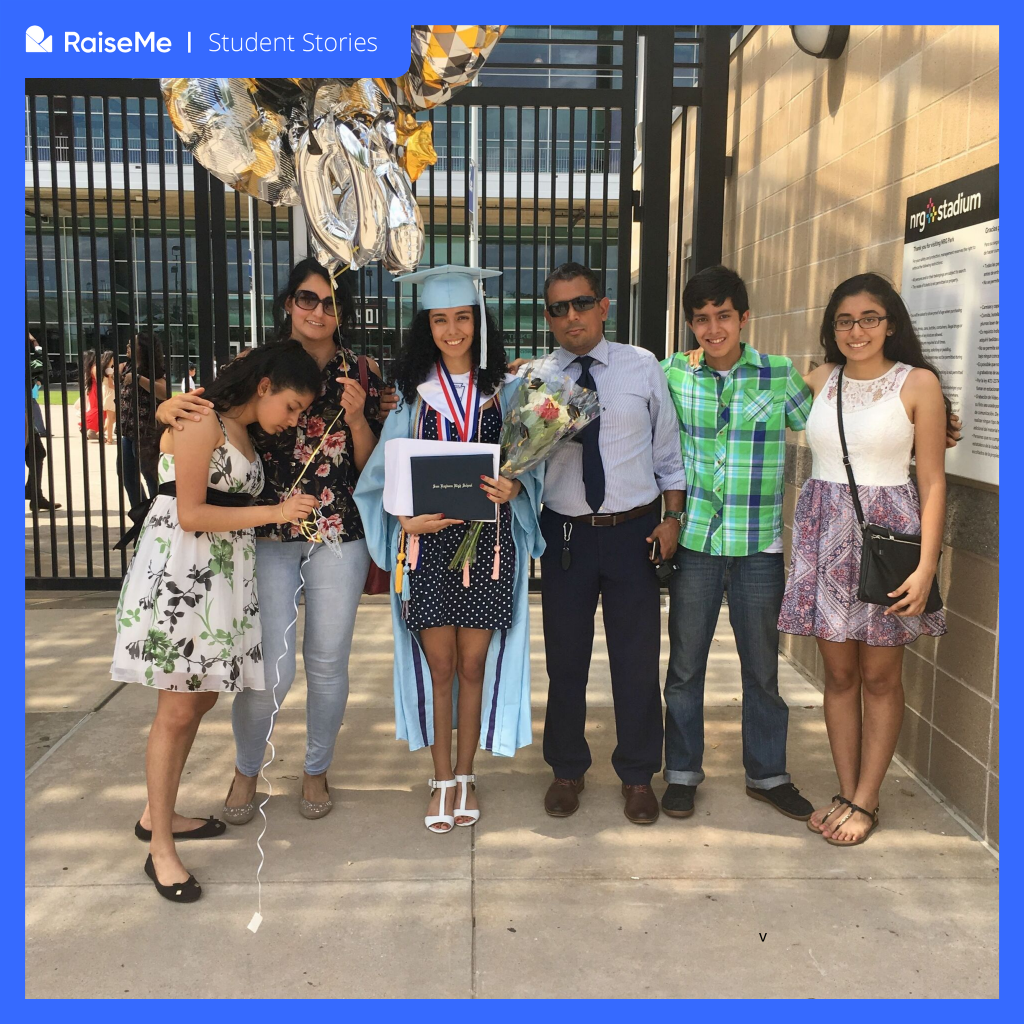 They've tried to find a better life here working — a better life for us. They started telling me about college and the importance of school and education from a very young age, as long as I could remember. Even before I went to school, my mom read books to me, which made me want to learn how to read myself. She taught me how to write my name. When I got to high school and college was getting closer, they really pushed me to take AP classes and to research about the college application process since they didn't know anything about it.
I also motivated myself to take AP classes because I wanted to earn scholarships. I wanted to fund my education because I didn't want to be a burden on my parents.
School life for Gisselle.
My favorite thing in school is learning. I've always wanted to learn! Ever since wanting to learn how to read and write as a little kid, I've always had goals.
The hardest thing in school was probably all the stress, and learning how to handle stress. I get stressed very easily sometimes, but I've thankfully learned how to handle it better in college. Both academically and socially in those years, it can be hard to make friends, to fit in. That was a really hard part for me — managing stress.
I had to learn to not take everything too seriously. My mom helped me a lot with that. She told me that it was okay to take breaks and that if I didn't get 100 on things, it was okay, it wasn't the end of the world. Taking breaks, like going through walks, or baking helped a lot.
RaiseMe Insight: The balancing act of school, extracurriculars, and everything else life throws your way is an all too common dilemma for students. And it's often the high standards we hold ourselves accountable to that makes it extra challenging. While it's important to push yourself to do your best, it's also imperative to keep yourself healthy, happy, and as stress-free as possible. Try different stress-management tools to find the ones that work best for you! A great one to start with? Taking breaks, just like Gisselle!
Teachers played a pivotal role.
From a very young age, teachers were always a really big part of my life. They really shaped my educational goals. I was in bilingual classes up until 4th grade, because I grew up in my home speaking Spanish only. My third grade teacher helped me transition into English classes, which was really big for me.
In high school, there was one teacher who really stood out to me. She was my sophomore year AP Bio teacher and junior year AP Environmental Science teacher. She was amazing. She was the one who wrote my recommendation letter for college. She helped me out so much in school things, but also in real life. I had no idea about anything about college, how to apply, where to look for scholarships, everything. So she helped me so much. She helped me look for scholarships and even find my college.
I would go after school for help, and then we'd start talking about different things outside of school. I didn't actively seek out relationships, they kind of just happened when I'd go after class to their rooms or participate in class!
RaiseMe Insight: Your teachers can be your biggest advocates, but getting to that point is a two-way street between you and your teacher. Be proactive in creating relationships with your teacher. Participate in class. Go to office hours. Ask questions. These little things do a lot of good for you — helping you create a relationship that helps you both inside and outside of the classroom, on your path to college and beyond.
Finding the right college fit.
An engineering teacher my freshman year told us a lot about college and life. He's the one who introduced me to RaiseMe! I was so surprised, I didn't know there was such a thing out there. And that's how I learned about University of Chicago too. Through RaiseMe, I loved scrolling through the list of colleges, just to explore. I had only known about my local colleges and wanted to explore outside of Houston. I'd always wanted to travel and go out of state for college, it had always been a dream of mine.
University of Chicago was also part of Questbridge. Questbridge is this program where they match you to one of their partner colleges. You apply through them, they match you to a college, and they give you a full ride. It's for low income, first generation students. My AP Bio teacher was the one who told me about Questbridge.
When I was looking at Questbridge partner colleges and saw Chicago on there, I researched it on RaiseMe. I found it so helpful! Things about majors, general information, and financial aid at the colleges. The money that I raised on RaiseMe for University of Chicago ended up factoring into my full price.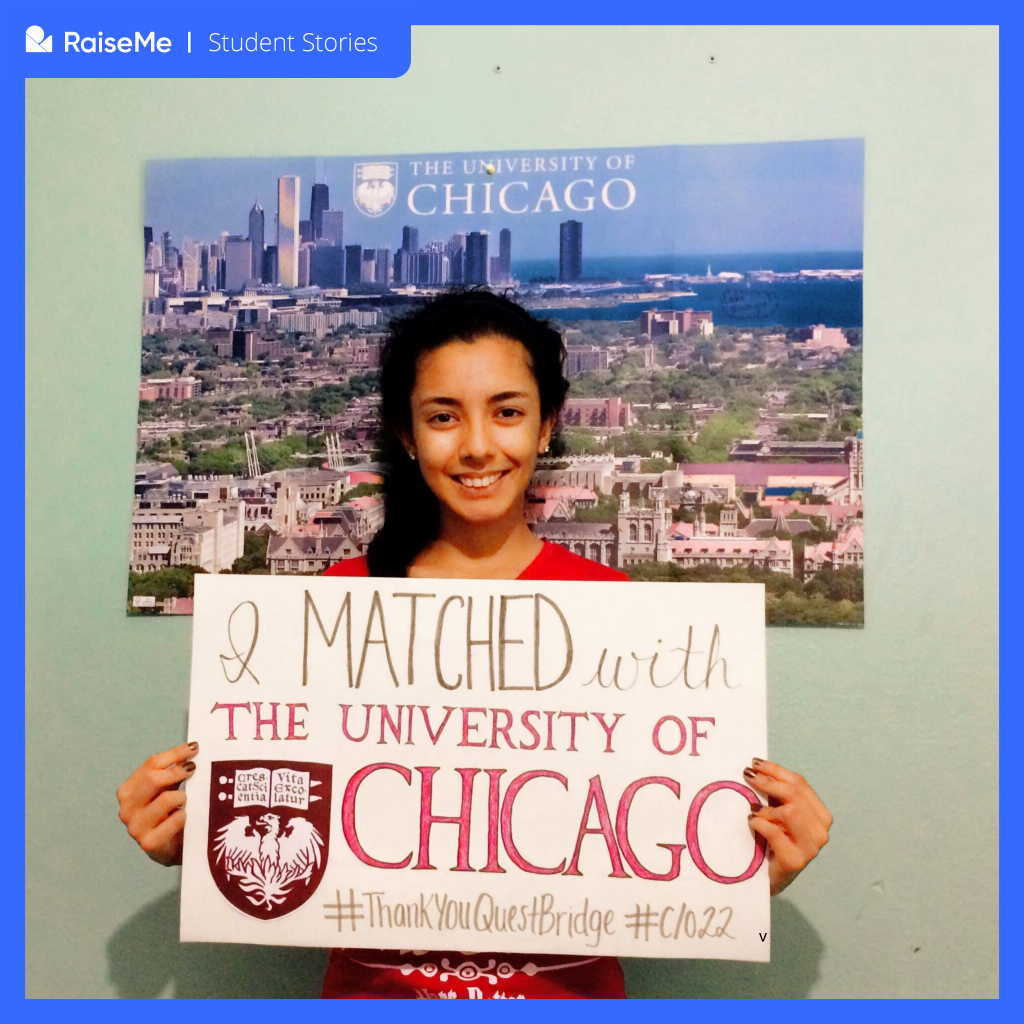 Gisselle worked hard to get the most out of her high school experience.
High school was a wild ride. I started of freshman year not taking any AP classes. And later on, that really scared me because I thought I was behind.
But thinking this helped push me to work really hard. I started to take AP classes and was involved with band. It was my biggest extracurricular. It took up a lot of my time, but it was really important to me. It's where I made my friends! I was in band all four years of high school. I played the flute and I was section leader for my band sophomore, junior, and senior year. It was a big part of my life and I really loved it.
I also did community service. I volunteered at my hometown public library. It was really fun. I helped mainly with activities with the kids. I was also volunteering at my hometown's animal shelter, which is where I worked this summer too [between school years in Chicago]. I volunteered on the weekends because during the week I was busy with homework and band.
RaiseMe Insight: Did you know that the things you love to do outside of the classroom can help earn you micro-scholarships on RaiseMe? Explore extracurricular micro-scholarships in your portfolio.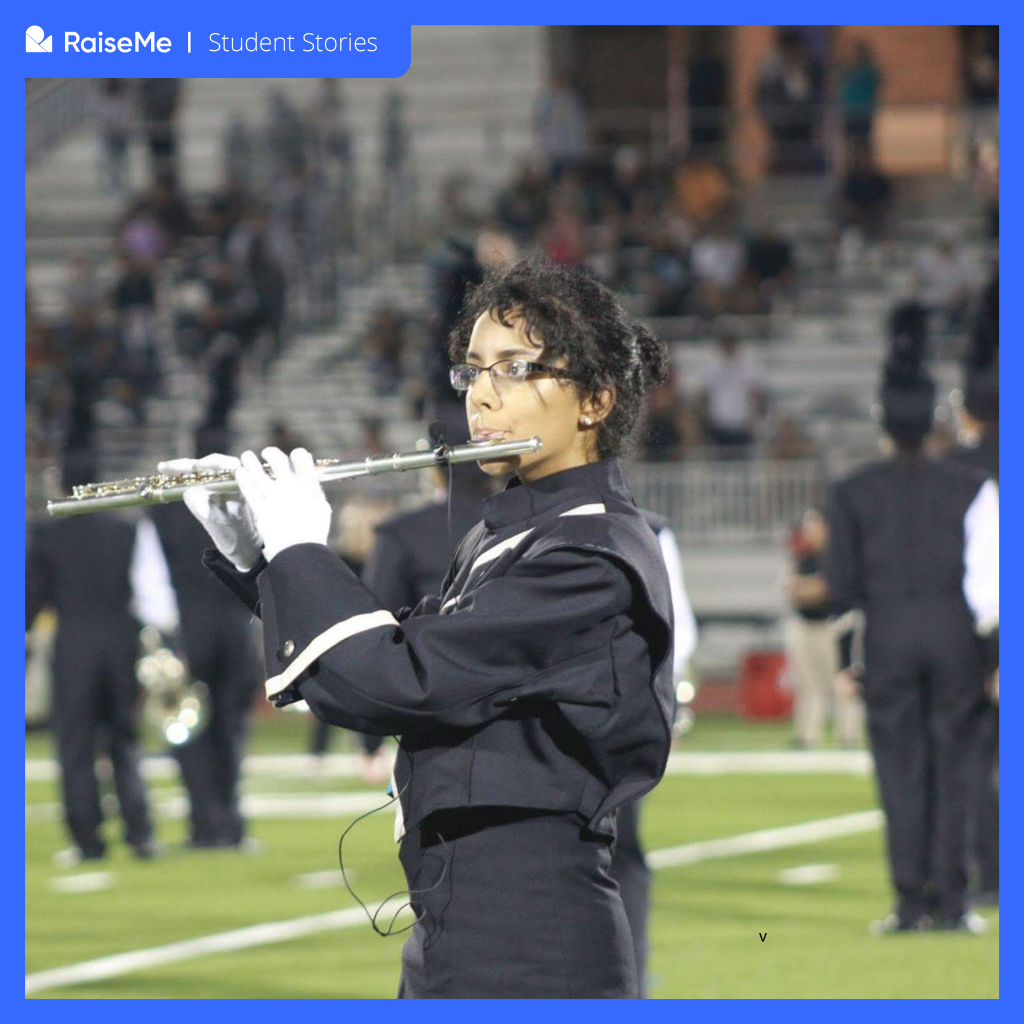 Learning about the college process.
I mainly learned through my teachers. They were so important. If it wasn't for them, I probably wouldn't be where I am right now. My parents didn't know how college worked.
I was really scared [about the college application process], so I started asking questions my sophomore year. I didn't want to be clueless about college applications come senior year.
I also asked my teachers about the SAT and the ACT, and I'd watch youtube videos about college. There were older students posting videos about studying for the SAT, or how to look for colleges.
With Questbridge, it was a whole ordeal. The application process was a lot early because its early decision. That's the whole catch — that it's binding because it's early decision. I didn't know what early decision meant at first, so I googled it and asked my teachers what they thought. My teachers told me about how early decision was a good thing if you know where you want to go, because sometimes you can get better financing and aid. I was really scared about applying to private colleges because it looked so expensive, but my teachers still pushed me to apply to out of reach colleges.
I ended up getting Questbridge and getting a full ride to University of Chicago.
Gisselle's path to her dream school.
I wasn't really interested in staying in-state. I wanted to learn how to be more independent, and I wanted to travel. Once I found out about Questbridge, I talked to my parents and asked 'If I get a full ride to the University of Chicago, would you let me go?' Since I am their first child, I knew it would be hard for them to let me go. But they told me they would support me in anything if I got a good scholarship! So financial aid and planning for college was really important. I knew if I didn't find financing, I wouldn't be able to college because my parents and I couldn't afford it.
So it was all up to me and me finding those resources.
Her life at the University of Chicago.
I am undeclared right now studying. I thought I wanted to be pre-med during my first year. But then I found out that I didn't want to do pre-med, because I wasn't really a science person!
This year I am exploring other majors. I have some majors in mind and am in between statistics, public policy, and possibly sociology. I am taking classes in those majors to see what I am interested in.
Since I am the firstborn in my family going to college, I had no idea what to expect going into college. Older friends and teachers gave me tips for college, but it was still so different from high school. I had to learn how to be independent. You're thrown in and expected to do everything yourself while taking really hard classes. I wasn't used to going grocery shopping by myself, doing my own laundry all the time, setting up schedules for myself. I thought I'd be used to the dorms since I am used to sharing rooms, but it was so different. At the same time, it was really nice having the community in my dorm.
At the University of Chicago, each dorm is split into houses, like Harry Potter style. You choose what dorm, but then they place you into houses depending on a form you fill out. You get really close to your house! You get to choose how involved you want to be in your house, so I chose to be really involved. I got pretty close to people in my house, and it's such a great support group.
Last year, I didn't sign up for the orchestra or band, because I was scared about time management. I did get involved in a program where we taught private lessons for free in the South Side community, because those schools in the South Side of Chicago are really underfunded, especially their music programs. Some schools don't even have music programs! Music was such a big learning experience, like in concentration.
This next year, I am planning on auditioning for the orchestra, so I am really excited.
Tips for other students.
My advice is don't be afraid to take risks. I never thought I'd be going to school, a private school in Chicago. I never thought I would be here. But all it took was taking a risk. Even if you think you can't get that scholarship or that that college is out of reach, that you can't afford it — go for it. You never know. All it took was hard work, motivation, and taking that risk.
And lastly, talking to teachers is so important. Teachers know so much and have so many resources, and they want to share it with you.
Gisselle is currently attending the University of Chicago, where she earned $5,540 in micro-scholarships on RaiseMe. Her favorite micro-scholarships were the extra-curricular ones! She loved how she could earn money simply from doing the things she loved to do, and from holding leadership positions (such as band). Sign up or sign in now to see what you could be earning for campus visits, your grades, extracurriculars, and more.
You may also like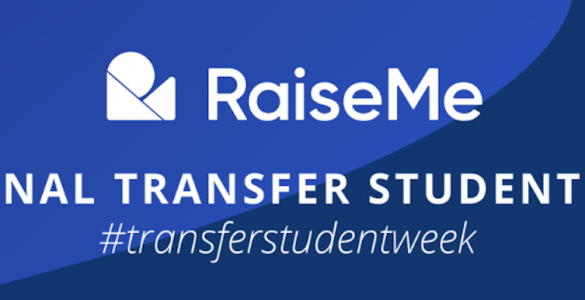 Join RaiseMe in celebrating National Transfer Student Week October 19th-23rd. This is a week to celebrate our students, connect them with resources, and to...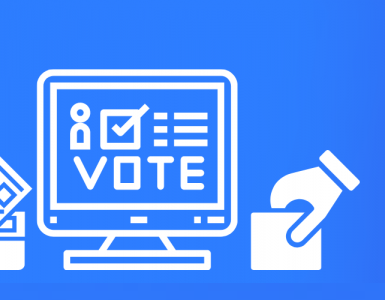 This fall, more than 80 colleges and universities on RaiseMe are offering micro-scholarships to community college and high school students for civic engagement...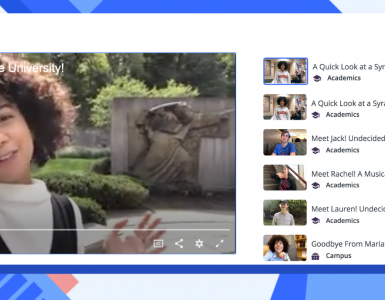 Now on RaiseMe, you can watch videos created by real students to get a true sense of college life and find out what schools are right for you.