Understanding College Financial Aid: The Complete Guide
Whether you're in the initial stages of discovering colleges as a high school freshman or sophomore, forming your list of colleges to apply for as a high school junior, or getting ready to head to college in the fall as a graduating senior, the question of how financial aid can help pay for college is one of the biggest questions a high school student will ever face.
As students begin to research college, the cost of attending college can feel insurmountably expensive. Fortunately, there are tens of billions of dollars worth of financial aid available each year to help students offset the cost of obtaining a degree. Federal scholarships and grant aid, institutional scholarships and grants (money from college institutions), work-study, and student loans are all different forms of financial aid available to students to help pay for college.
Many free resources are available to help high school students understand how financial aid works, ranging from the college advising center on campus, to the U.S. Department of Education's Federal Student Aid website, to RaiseMe, where students can earn micro-scholarships directly from colleges for academic and extracurricular achievements. Click here to read about how how RaiseMe micro-scholarships factor into financial aid awards from colleges.
In this article, we've broken down how financial aid works for students, how colleges and the federal government determine a student's financial need, the different forms of aid typically available to students, how the federal government and colleges work together to help students meet their financial need, and how students can maximize their college scholarship earnings to help pay for college using RaiseMe. (Educators: you can download the full "Explaining Financial Aid" lesson plan here).
How is financial need determined?
Colleges independently determine financial need by subtracting your unique expected family contribution (EFC) from the average cost of attendance at a college, which typically includes tuition and fees, room and board, materials such as textbooks and school supplies, and travel expenses.
The EFC is calculated in the Free Application for Federal Student Aid (FAFSA) and then used by colleges' financial aid staff to determine how much financial aid you would receive if you were to attend their school. When you fill out the FAFSA, you submit information about you and your family's income and financial assets, as well as how much you and your family are expecting to contribute to your college tuition.
Important note: Your EFC is not the amount of money your family will have to pay for college, nor is it the amount of federal student aid you will receive. It is a number used by your school to calculate how much financial aid you are eligible to receive.
How much does college typically cost at typical public and private 2 and 4-year colleges?
The cost of college can vary widely depending on the type of school (e.g., public vs. private), 2-year or 4-year, and type of program. The image below illustrates how the typical cost of college can range widely depending on many factors, ranging from whether a school is public or private, the cost of room and board, and other expenses.
What are the different types of financial aid?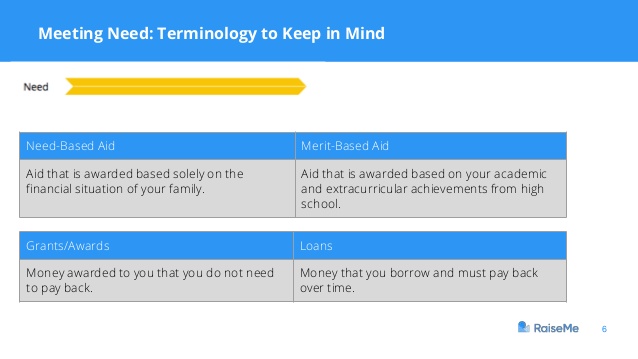 After your financial need is determined, financial aid can come from several different sources. There are several different types of financial aid, and it's important to know the different sources of financial aid as well as how they differ.
Need-based Aid: Need-based aid is awarded based solely on the financial situation of your family. In order to determine how much need-based aid you qualify for, colleges will often ask you to fill out the FAFSA (Free Application for Federal Student Aid).
Grants and Awards: Grants and awards are money awarded to you that you do not need to pay back. Grants and awards can come from the government (e.g., federal Pell grants), from performing military service (e.g., veteran and military grants), private and employer grants (which you need to apply for), and institutional grants (money granted to you directly by colleges — this is where your RaiseMe scholarship money comes from).
Loans: Money that you borrow and must pay back over time.
Merit-based Aid: Aid that is awarded based on your academic and extracurricular achievements from high school.
The graphic below explains the total amount in aid that is typically available to undergraduate students each year, by source. As you can see, federal pell grants and institutional grants from colleges make up a hefty portion of the aid that students are eligible to earn (about 40% collectively).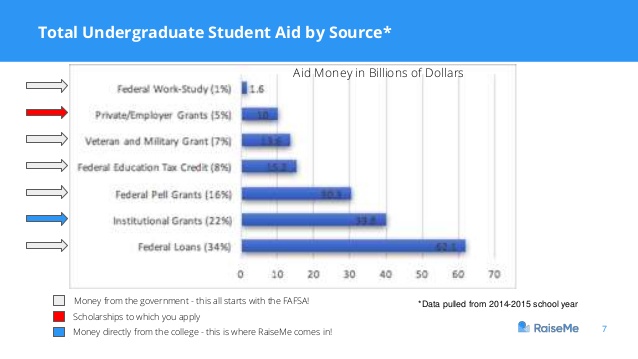 What kinds of financial aid can the federal government provide?
The FAFSA is important because it helps the federal government determine how much financial aid they can provide based on a family's expected financial contribution. Read our explainer post about things that you need to know about the FAFSA here. Based on your FAFSA, there are a several types of financial aid available to students:
Federal Grants (you don't have to pay it back!):
A

Pell Grant

is the largest award type offered by the federal gov't for meeting demonstrated need. To be eligible for a maximum Pell Grant (which is $6,095 for the 2018-2019 school year), your EFC must be zero, meaning your family can't afford any contribution toward college.A maximum Pell Grant covers 61% of the average tuition cost for a public, four-year college. This means a federal grant alone will not cover all of the cost of attendance.
Federal Loans (you will have to pay it back):
There are primarily two kinds of federal loans available to students attending college: a subsidized Stafford loan — which won't accumulate interest until after college graduation and an unsubsidized Stafford loan, which will accumulate interest while you are enrolled in college.
Your federal aid package will most likely include a combination of grants and loans, all of which is determined from the FAFSA. So fill it out early; some federal grants are first come – first serve!
How do colleges help meet financial need?
Once a college knows how much federal aid you are eligible to earn based on your FAFSA information, they can then determine how much your financial need is, based on the cost of attendance at their institution and your expected family contribution. There are two kinds of institutional awards that colleges contribute to help students offset the cost of college: merit-based awards and need-based awards.
Merit-based aid is a grant award based on the strength of your application to a college. Once a college establishes the amount of federal aid you are eligible to earn, they will next determine how much grant money they can offer for your academic and extracurricular accomplishments.
Need-based aid is aid that a college based on financial need. If the federal aid package plus the merit-based aid from the college is not enough, colleges will also offer students need-based awards to try to further cover the gap.
How helpful are institutional aid awards in helping students pay for college?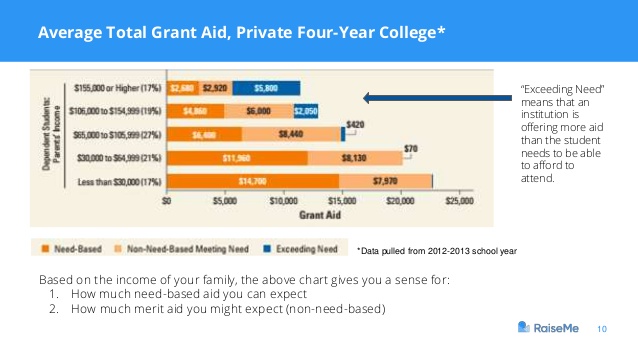 As the second largest overall source of financial aid for undergraduate students, institutional awards present a big opportunity to help decrease the financial burden that students and their families. More importantly, as a student, your opportunity to earn institutional aid is entirely dependent on your merit. In other words, your performance during and throughout high school — your grades, extracurricular accomplishments, leadership experience, test scores, and community service, and so much more — will help colleges determine how much merit aid to award you from their allotted resources.
How can you maximize your financial aid from an institution?
There's no stated criteria for how to earn individual merit grants from colleges, and the amount that you'll get from each institution can vary widely. However, you can plan ahead to both maximize your institutional award and make smart application decisions by using RaiseMe.
On RaiseMe, colleges begin to calculate how to award scholarship and grant aid (what we call micro-scholarships) to students as early as 9th grade. For every additional accomplishment, students can earn additional aid from colleges. You can think of a college's micro-scholarship program as a checklist for how to prioritize your time in high school.
Each RaiseMe college partner has a unique micro-scholarship plan that lists the specific accomplishments that are factored in to their institutional grant considerations. Thus, the micro-scholarship plan can serve as a roadmap, where you are able to plan out your coursework and extracurriculars to not only be a competitive applicant but also maximize the institutional aid it's possible to earn. Colleges award differently for different achievements, so understanding which achievements are worth more or less to certain universities is helpful in determining which schools may be a great fit for you.
So what's the big idea with financial aid?
The vast majority of students will qualify for financial aid or scholarships, so don't let cost dissuade you from considering college options.
There are two means of awarding aid to finance college: need-based aid and merit-aid.
Need-based aid is a factor of your family's financial situation.

To qualify for need-based aid you must fill out the FAFSA and/or CSS Profile.

Merit-aid is based on a student's academic and extracurricular achievements. Most of those grants come directly from an institution.
RaiseMe provides a checklist for maximizing institutional aid at participating colleges so you can plan your activities starting in 9th grade to get the most grant money.
Ready to start earning micro-scholarships for your achievements on RaiseMe? Sign into your portfolio now.
You may also like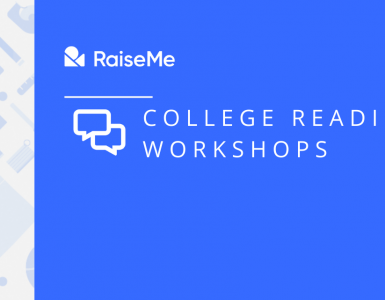 Interact directly with colleges in our new series designed to help you feel supported in your college search journey this fall,... Most students who have begun to research colleges or work on college applications have some sense of what financial aid is, and how receiving financial aid can remove some of the financial burden of paying for...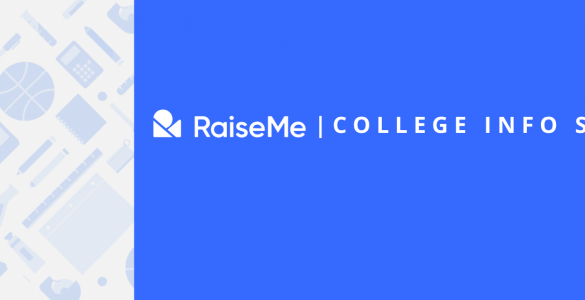 Get smart about financial aid and paying for college in an info session with RaiseMe, Carnegie Mellon, and others.