The 12 Days of Kindness: How Compassionate are High School Students Today?
Each day, hundreds of thousands of students from all across the country make the decision to serve their communities, helping those less fortunate, enriching their local surroundings, or organizing others to take action as service. They selflessly take initiative to help those around them, practicing empathy to learn about issues facing not just their immediate surroundings, but also the world around them.
Colleges believe that students who perform service in their communities demonstrate commitment, self-motivation, and collaboration — all qualities that indicate that they are more likely to contribute to their campus community during college. That's why colleges on RaiseMe award students for their community service achievements during high school — students can earn as much as $7,500 in micro-scholarships towards tuition for community service performed over the course of their high school years.
Introducing RaiseMe's #12DaysOfKindness
To recognize and celebrate the community service contributions of RaiseMe students across the country, RaiseMe is celebrating "12 Days of Kindness" as we head into the holiday season. Everyday, beginning today until December 22, we'll feature a new student who has made a profound impact in their communities.
Check out our student features here, including:
Day 1:

Yael S., a senior from Miami, FL who has spent time caring for zoo animals at her local zoo.

Day 2:

Andrew C., a senior from Shelton, CT who sells local handcrafted jewelry to benefit Nicaraguan communities in need
Community Service on RaiseMe: By The Numbers
The team at RaiseMe also took a look back at the impact that students on RaiseMe have made on their own communities, on a local, national, and global level. Here's what we found: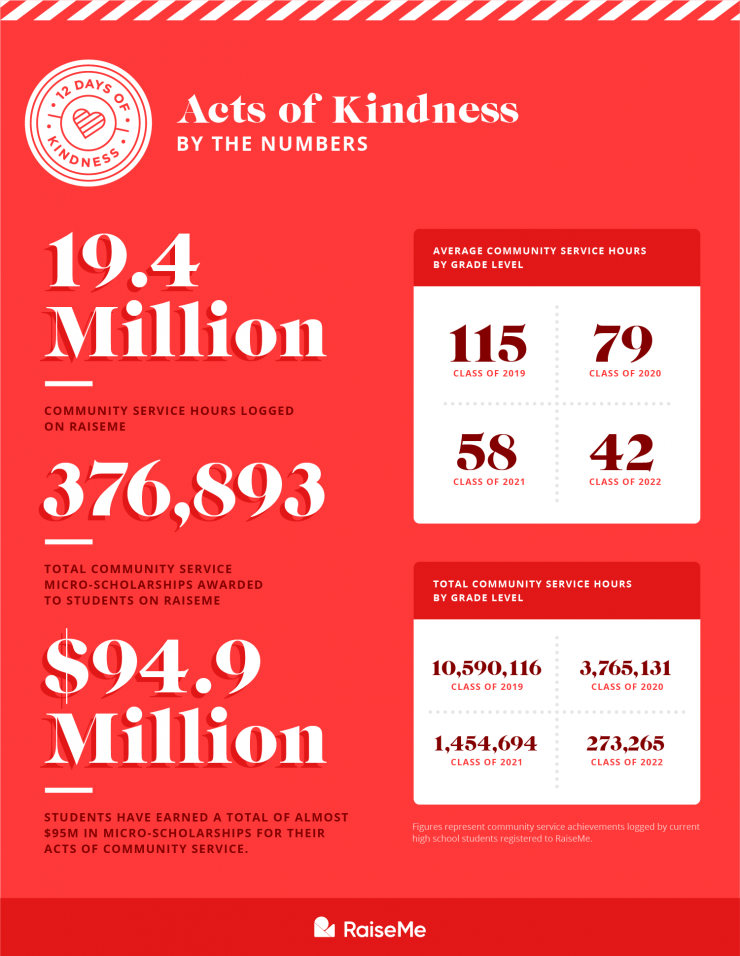 Students on RaiseMe have earned a total of almost

$95 million

towards community service micro-scholarships on RaiseMe
Almost

19.4 million

community service hours have been logged by students on RaiseMe
The average number of service hours students on RaiseMe have logged range from

42

(among freshmen in the class of 2022) to

115

(among seniors in the class of 2019).
Students on RaiseMe have earned over

375,000

micro-scholarships for their community service on RaiseMe.
States With The Most Compassionate High School Students
As part of our campaign, we were curious: are students in certain states privy to unique opportunities to serve their communities? Are students in certain areas more likely to perform acts of service in their community? Based on an analysis of total community service events reported on students' RaiseMe portfolios across the country, we sought to discover the states where students in the country were the most active in community service. Analyzing the total average community service hours logged per student in the state, our data indicated:
The most compassionate high school students in the country come from Florida
Among all of the students registered to RaiseMe, we found that students in Florida have performed the most community service (an average of 34 hours per student) compared to students in any other states.
Here's a look at which states made the top 10: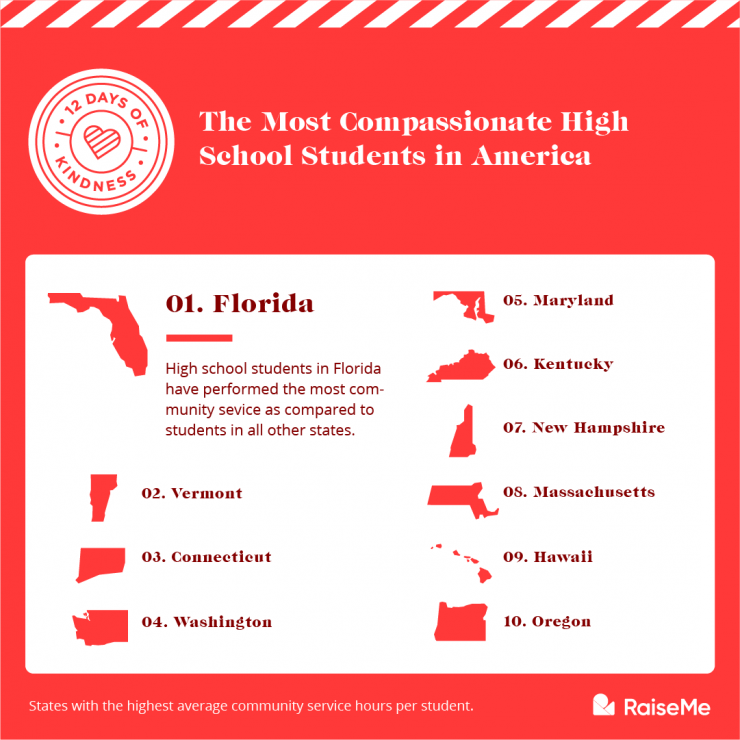 The Most Compassionate High School Students In America, Ranked By State
Florida
Vermont
Connecticut
Washington
Maryland
Kentucky
New Hampshire
Massachusetts
Hawaii
Oregon
Scroll through the images below to learn more about community service among students in each state that made the rankings.
Interested in following along our #12DaysOfKindness campaign? Check out our Twitter, Instagram, and Facebook channels for more fun tidbits about ways that students on RaiseMe have practiced kindness and compassion this holiday season.
Want to spread kindness to peers by making sure they can earn micro-scholarships for their outstanding community service achievements? It's easy – just login to your RaiseMe portfolio and click on the green heart in the upper-right hand corner.
Want to spread kindness to your peers and share the gift of micro-scholarships with your friends for their community service contributions? You can earn $100 in micro-scholarships yourself for every friend that joins RaiseMe. It's easy – just log in to RaiseMe and click on the green heart in the upper-right hand corner of your portfolio to help your friends earn micro-scholarships today.
You may also like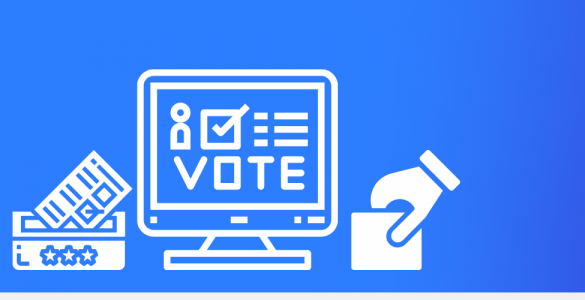 This fall, more than 80 colleges and universities on RaiseMe are offering micro-scholarships to community college and high school students for civic engagement activities like promoting voter turnout and advocacy.

New transfer success initiative will reward students with financial aid awards for strong academic performance, and on-time degree completion from The College of Saint Rose, Concordia College New York, Rensselaer...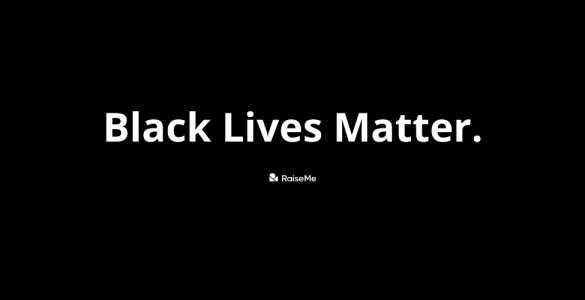 Racism, police brutality, and violence have no place in our society. Read more about our commitment to eradicating racial...