PSAT/NMSQT: Everything you need to know
It's that time again! October means PSAT testing in high schools across the country. For sophomores and juniors, this is especially important for a few reasons. First, the PSAT/NMSQT is the official entrance exam to be considered for the National Merit Scholarship program. Not only is this a great honor to be recognized at any level, but finalists will be eligible for substantial scholarship awards for college.
But the National Merit Scholarship is not the only opportunity to cash-in for college. Students on RaiseMe can earn for simply taking the exam and, additionally, for scoring well! When a student takes the PSAT, they can earn as much as $3,000 to participating colleges. For a good score, students can earn as much as $10,500 to participating colleges!
To make sure students are aware of all the ways the PSAT can be valuable to their college-going preparation, we've developed a presentation deck that walks through what they need to know going in to the exam and all the reasons they should take the test seriously.
Download the presentation here or click the image below: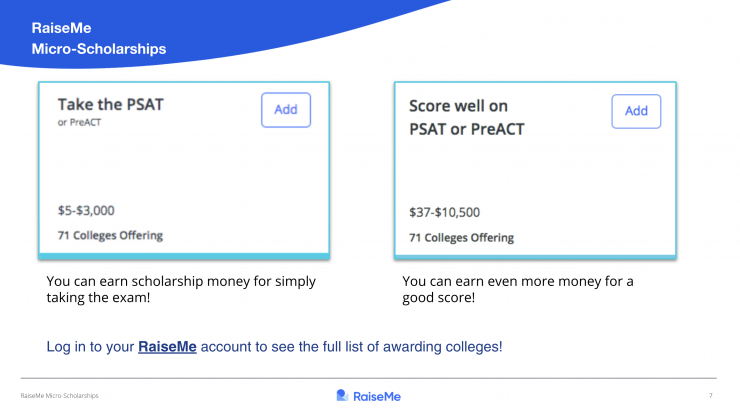 In addition to PSAT-specific tips, we've also included study habits that are known to mentally prime students for any high-pressure situation. We will elaborate on social/emotional skill building in the future, but here's a sneak peek of the simple choices a student can make to establish routines that will be essential in college.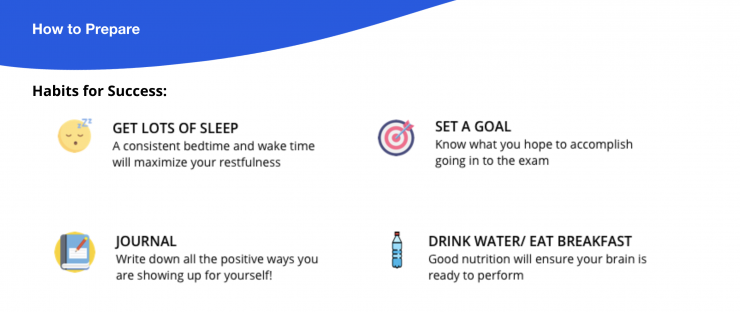 Finally, if you teach Hispanic/Latino identifying students, be sure to check out the National Hispanic Recognition Program. For juniors taking the PSAT/NMSQT this October, a high score may make them eligible for this high honor. Just one more motivator for students to take the exam seriously and try their best! Along those lines, be sure to direct students to our presentation deck on Hispanic-Serving Institutions, many of which are awarding college partners on RaiseMe!
From everyone at RaiseMe—wishing your students abounding success on the PSAT this month!
You may also like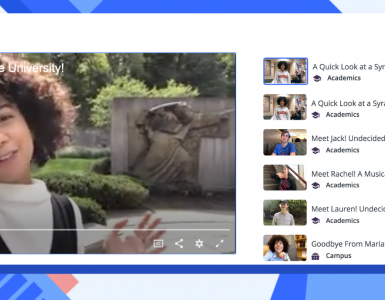 Now on RaiseMe, you can watch videos created by real students to get a true sense of college life and find out what schools are right for you.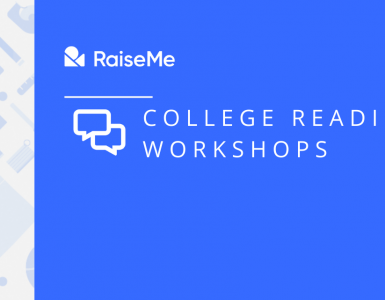 Interact directly with colleges in our new series designed to help you feel supported in your college search journey this fall,...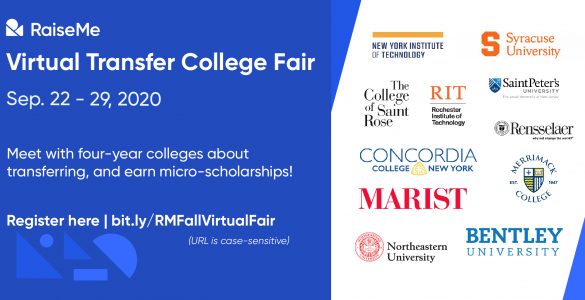 During RaiseMe's Virtual Transfer Fair, community college students can earn micro-scholarships for visiting with colleges, right from home. Students: we know it has...