Welcome to our blog! See you at NACAC?
Welcome to the RaiseMe College and University Blog! As we continue to deepen our partnerships with colleges and universities to boost student engagement and success through micro-scholarships, we're thrilled to invite you to follow along.
This blog will serve as a space for current and future college and university partners to:
Learn more about the work of our four-year college partners to motivate, connect with, and engage students in their college-going journey.
Read about our community of nearly 40,000 hardworking educators dedicated to building a college-going culture in their classrooms and schools.
Access college-readiness and road-warrior-ready resources for admissions staff.
Glean new ideas and insights from our most innovative college partners and their successes in early student engagement, recruitment, and persistence.
Finally, learn more about the amazing students on RaiseMe.
Before you dive into our digital content, please get to know us in-person at NACAC 2019. Not attending NACAC? Don't sweat it! We also attend regional conferences throughout the year and we are eager to put a face with the RaiseMe name.
See you at NACAC 2019!
We're gearing up for the NACAC National Conference in Louisville and can't wait to meet with old friends and new while catching up on the latest student success and engagement trends. Here are a few ways to engage with the RaiseMe team and deepen your knowledge of micro-scholarships and the power of early engagement in college preparation:
Swing by Booth 641
Join us at Booth 641 in the Exhibit Hall to meet with a member of our team. We can discuss strategies to incorporate your micro-scholarships into marketing campaigns and personalize student communications. Additionally, we'll have collateral on hand for your fall travel and computers and iPads where you can get help with your RaiseMe account. If you have questions, we have answers! See you there.
Hear from our partners during Educational Session D:
Micro-scholarships: A Holistic Approach to Achieving Momentum in Student Motivation and Success
Over 300 universities, nearly 40,000 educators, and more than two million students at high schools and community colleges across the country have harnessed the power of micro-scholarships to achieve their student success goals. Join us on the Financial Aid stage on Friday, September 27 at 1:30 pm!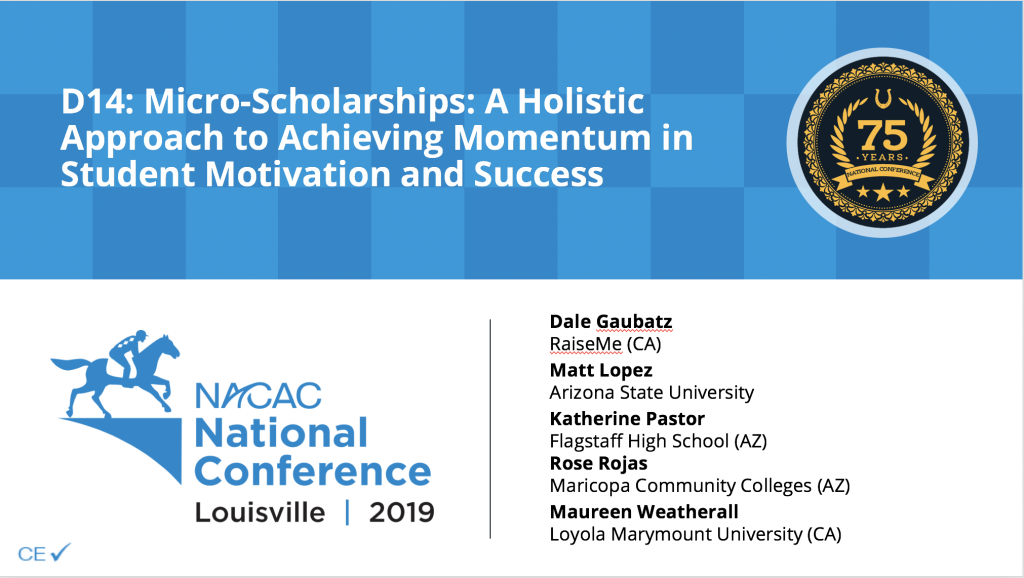 RaiseMe Associate Vice President, Dale Gaubatz, will be joined by Arizona State University Assistant Vice President of Enrollment Matt Lopez, Loyola Marymount University Vice Provost of Enrollment Management Maureen Weatherall, Maricopa Community Colleges (AZ) Director of Center of Curriculum Rose Rojas, and Flagstaff High School Counseling Department Chair Katherine Pastor for this informative and interactive session.
During the session, we'll cover how stakeholders from high school, community college, and four-year universities have leveraged RaiseMe to encourage and motivate students, build rapport, and much more.
Raise a glass with RaiseMe at NACAC 2019
After the presentation on Friday, we invite you to join us for a happy hour at the Ice House, a short walk away from Kentucky International Convention Center, at 5:30 pm . RSVP here to join us, and let's celebrate the start of another successful new school year together!
Long-standing friends of RaiseMe and new alike, we hope to see you there!
Want to learn more about how RaiseMe can support your student engagement and success goals? Get in touch.
You may also like New transfer success initiative will reward students with financial aid awards for strong academic performance, and on-time... The higher ed industry is reacting to a rapidly changing student search landscape. In a very short period of time, admission offices across the US shifted tours, events,...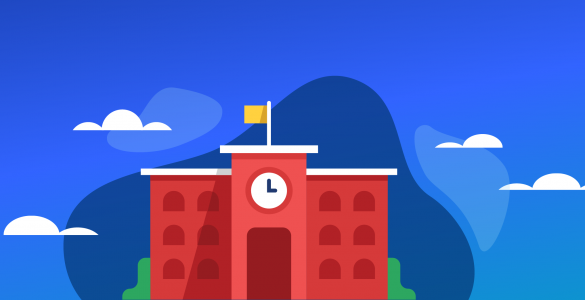 It's time to rethink how your university's enrollment team is utilizing student search next fall in the wake of COVID-19.