How I Made it to College, with Salvador of Oakland, California
High school senior, Salvador, shares how he is making it to college as a first generation college student.
For this installment in our series of How I Made it to College, we decided to do something a bit different. Rather than featuring a student already in college, as we've done in the past, we are telling the story of Salvador – a high school senior in Oakland, California. With many high school seniors having wrapped up the application process, we wanted to share a closer look into one student's own college application journey — from choosing a major, to the personal statement, to building a college list. Read on for Salvador's story.
Meet Salvador.
I am Salvador Avelar. I am 17 years old, and I am from Northern California. I attend Aspire Lionel Wilson College Preparatory Academy, which is a charter school in Oakland, California. I am currently a senior. I like to watch soccer, play soccer, or play the guitar.
Setting the bar high early.
I was born in Berkeley, but I've been raised in East Oakland. Growing up in East Oakland has been a challenging experience, because for the majority of my childhood, my parents were really strict on me. Academically, they always had me shoot for the highest grades. Now that I've grown up, I'm thankful for that strictness because it really shaped my journey all through high school. Following the rules really kept me in shape.
Seeing college as a path forward.
My parents both came from Mexico. They migrated here for a better life for my big sister and me. My dad is a construction worker. He's been working as a laborer for my whole life. My mom started working for a lunch factory making lunches for schools.
In middle school, my parents told me to get good grades, because it would help me get to a good college. They started telling me that college is the best way for upward mobility. They feel and I feel that college is the only way out for people like me of low income. Get a better job, get a better education, get more opportunities in life.
Imagining life in college.
I have two major interests. One is computer science, and one is communications.
Ever since I got involved in STEM programs in high school, I started learning how to code and enjoyed it. It just really got my attention and feels like it's something I would enjoy doing for the rest of my life. I joined a computer science program called Google's Code Next. It's based here in Oakland and for people of color. It helps high school students learn to code and learn leadership skills. I was there for two years, and spent all my Saturdays learning to code and learning to be a better leader.
Communications ties to my passions in soccer. Growing up, I always saw sports shows and liked to watch the analysts argue. It made me think that I want to be one of those people on tv, analyzing and debating sports. One of the most popular college majors for being a sports analyst is Communications.
RaiseMe Insight: Your extracurriculars and passions, like STEM and soccer for Salvador, can be great indicators for areas of study in college. Explore those interests in high school and consider how you can apply them to your college life, and even your career. Check out our article on how extracurriculars help you get into college here.
Getting through senior year and starting college applications.
Senior year, and navigating the college process has been stressful, mostly because I am one of the first people in my family to go to college. Although I have my sister who applied to college and is at Chico, it's still hard to get the right information from her because I want to apply to UCs or private schools, something that she didn't do. The most challenging thing so far is getting help.
During this past summer, in a program called SMASH, we had a class on college readiness. They helped tell us about the struggles that first-gen students can have. They also helped us get a head start on the applications process — to work on our personal statement, looking for scholarships, how FAFSA works, and just getting a glimpse on the college application process.
My favorite part of the college application so far has been the personal statement. It's kind of weird since I am not a big fan of English or writing. Working on the drafts is rewarding. It's like getting one step closer to the perfect application. Every time I do a new draft, it just motivates me, and I just enjoy doing it.
Tips for other students in applying to college.
The biggest tip is to reach out for help. I know there are a lot of people who want to do things on their own, because they feel weak asking for help. I was like that at first, wanting to do things for myself. But I learned that reaching out for help is more of a strength than a weakness because it's your recognizing what you don't know.
RaiseMe Insight: We applaud Salvador on his key tip for college applications. He is right – you don't know what you don't know, and being proactive to get in the know is critical. Your high school counselor is a great person to reach out to for advice. And here at RaiseMe, we also have resources to aid you in your college-going journey. Check out our blog.
My other tips is to get involved in extracurriculars. And not just any, but those that are actually passionate about. That will benefit you in the common application, and in your own life experience.
Why college?
One of the biggest reasons I want to go to college is to give back to my parents for bringing me into this country and creating a better life. I know I wouldn't be as attached to education if I'd been born and raised in Mexico. They sacrificed a lot just coming here to live. Since day one, their goal for me was to go to college. I feel like getting a college degree is the coolest thing. I made it. Thank you.
You may also like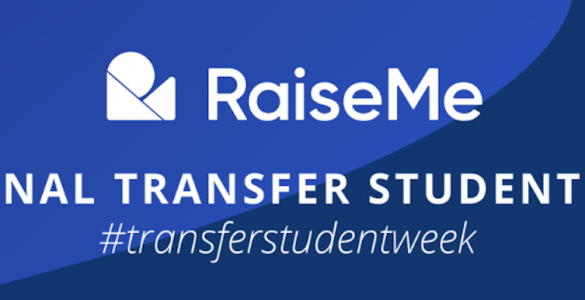 Join RaiseMe in celebrating National Transfer Student Week October 19th-23rd. This is a week to celebrate our students, connect them with resources, and to...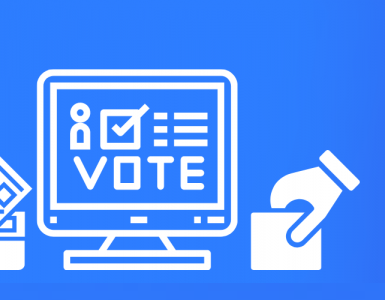 This fall, more than 80 colleges and universities on RaiseMe are offering micro-scholarships to community college and high school students for civic engagement...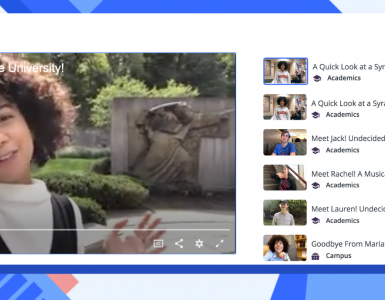 Now on RaiseMe, you can watch videos created by real students to get a true sense of college life and find out what schools are right for you.