Bring Your RaiseMe Account With You to Community College
Community college bound? RaiseMe's new Convert Account feature is waiting for you.
Community college bound? RaiseMe's new Convert Account feature is waiting for you.
If you are attending or plan to attend community college in the future, and already have a RaiseMe account from high school, the Convert Account feature allows you to use RaiseMe's community college platform without having to create an entirely new account. This makes it simpler and easier to start earning transfer scholarships from 4-year colleges for all that you're doing during community college.
Need more motivation to convert your account? Through the Convert Account feature, RaiseMe's community college platform allows you to:
Earn transfer scholarships: Earn scholarships from 4-year colleges for your community college coursework, activities, work experience, and more.
Discover nearby four-year colleges: See what schools in your area are looking for community college students like you, and narrow your list to the schools that offer the programs or majors you're considering.
Begin your transfer journey: With your new RaiseMe community college account, you can learn what achievements will put you on track for a successful transfer, and plan ahead to ensure that you maximize your chances of earning scholarships and getting admitted to the schools of your choice.
Follow these steps below to convert your account, begin earning transfer micro-scholarships and get right on track towards transferring to your four-year college of choice.
How to convert your RaiseMe account Step 1: Log in to RaiseMe and Go to your Account Settings
A popup may appear when you visit your RaiseMe portfolio, which will allow you to convert your account if you indicate that you plan to attend community college after high school. Otherwise, visit your Account Settings after logging into RaiseMe, and select the Convert Account section.
RaiseMe Pro Tip: If you are a graduating senior, you will have the opportunity to to move forward with the Account Conversion process from May 1st of your graduation year. Upon converting your account, you won't be able to log back into your high school account.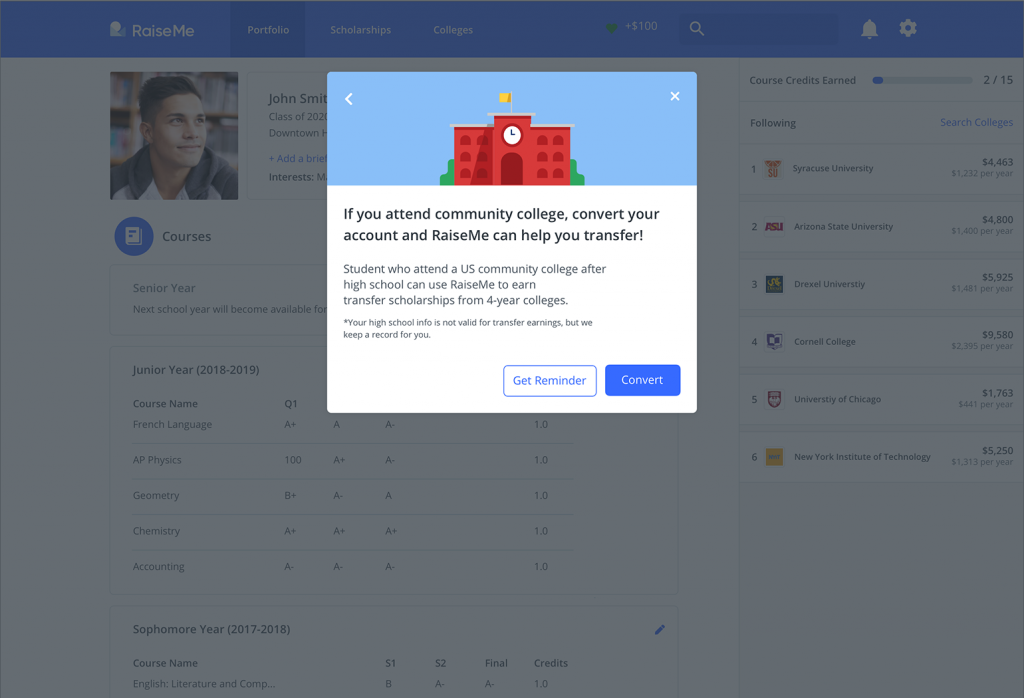 Step 2: Select Convert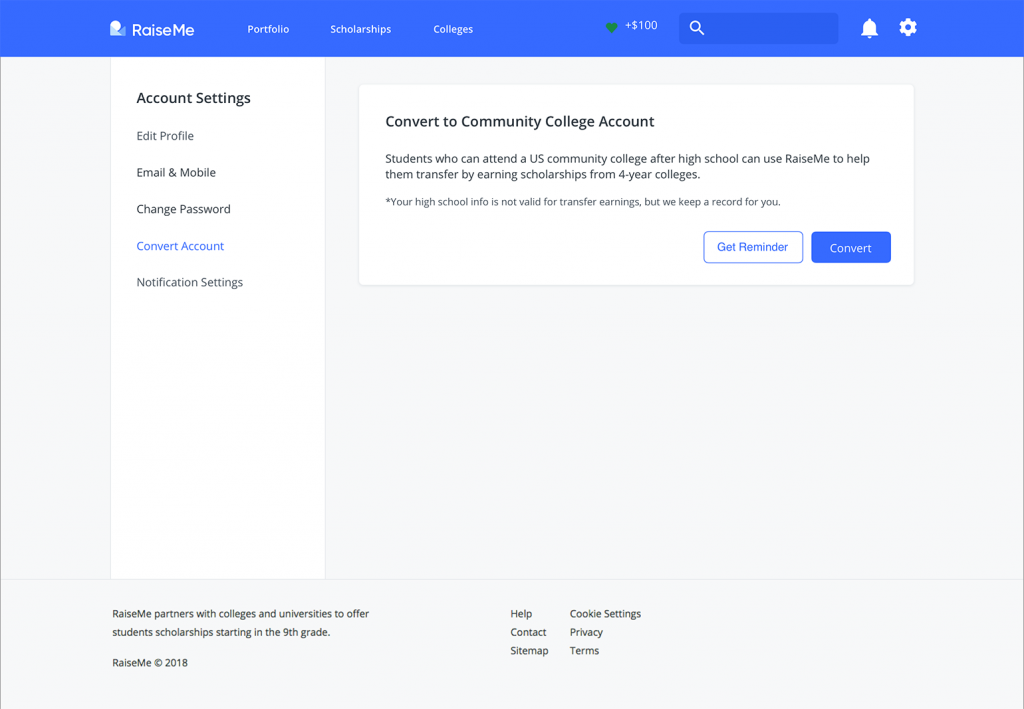 After clicking Convert Account section, click the blue Convert button.
Step 3: Confirm or update your email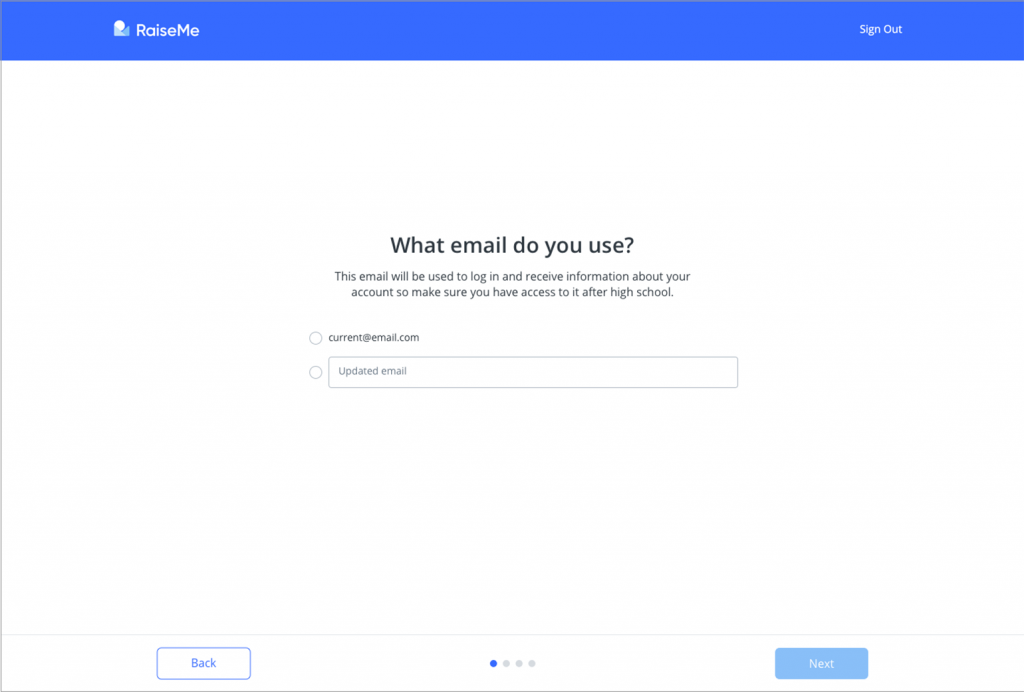 Confirm or update your primary account email with the email address you will use during community college.
Step 4: Input your community college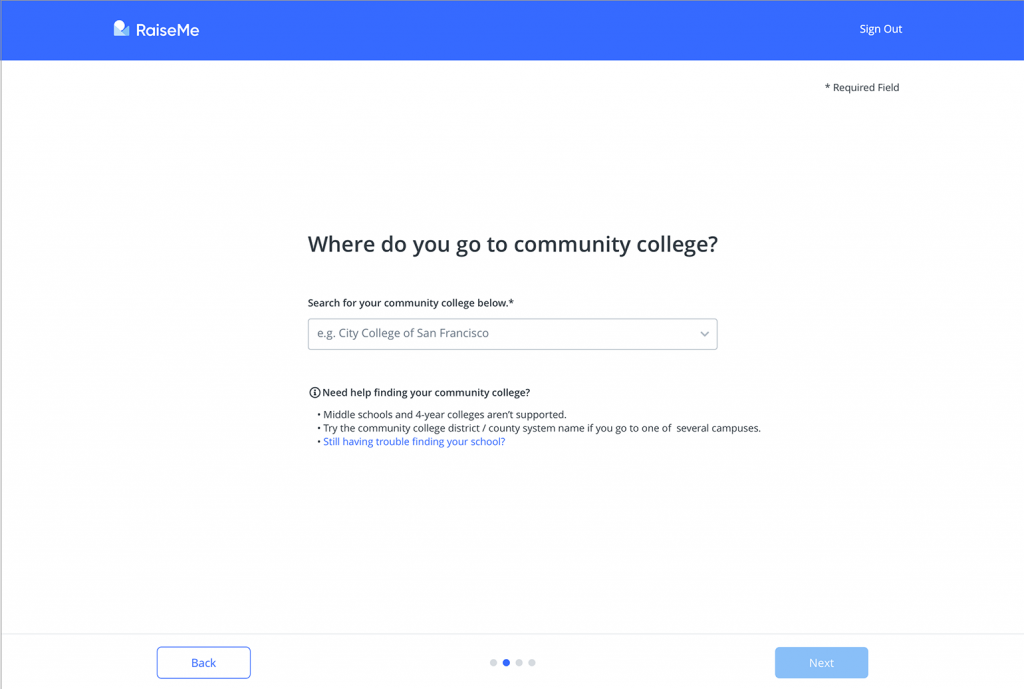 Type in the community college that you will be attending.
Step 5: Select your transfer term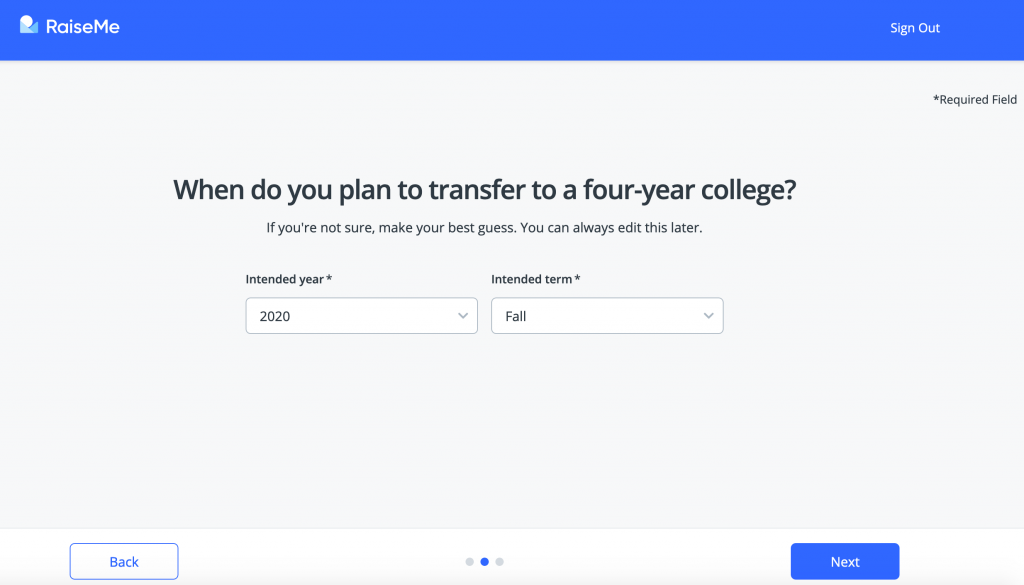 Select your planned transfer term — the first term or semester when you plan to enroll at a four-year university after transferring from your community college.
RaiseMe Pro Tip: You will always have the opportunity to update this if your plans change. If you are not sure yet when you will transfer, enter the earliest term when you might realistically transfer.
Step 6: Follow colleges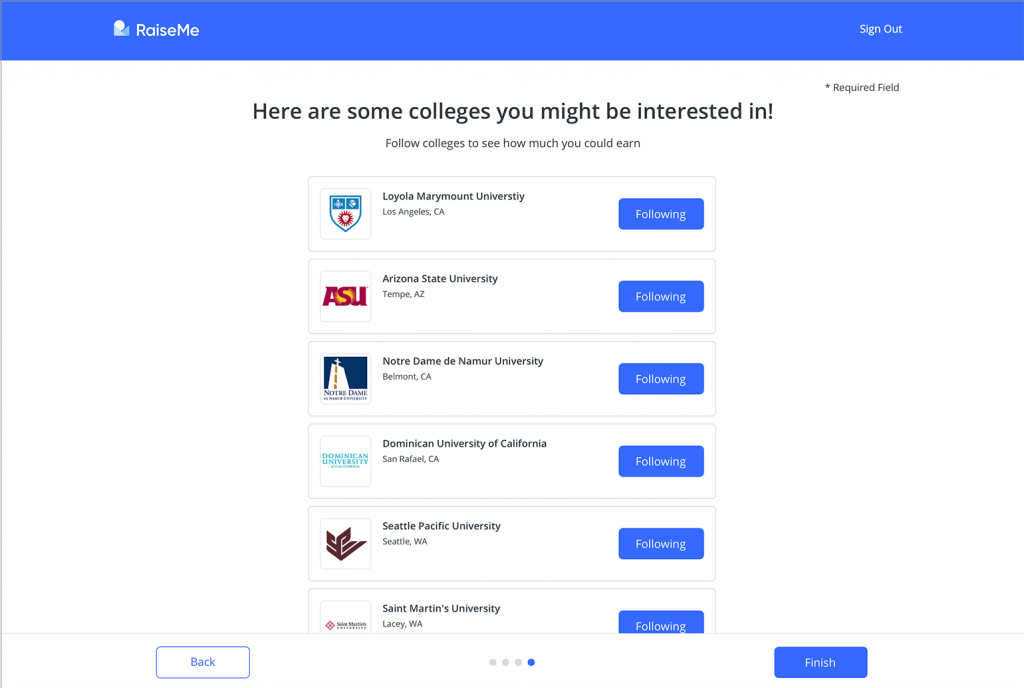 Choose to start following colleges that offer transfer scholarships. You will find suggested colleges to follow, and also have the opportunity to search and select others that interest you.
Start earning
Congratulations! Once you select Finish to land on your new community college account portfolio, you can begin earning transfer micro-scholarships for all your community college achievements. Dual enrollment, working a part-time job, and volunteering are just a few of the ways you can get started earning.
RaiseMe Pro Tip: Discover new micro-scholarship opportunities by checking out the Scholarships tab on the profile of colleges you follow.
Common Questions Answered on Account Conversion
Q: What happens to my old information from high school?
A: After converting your account with the steps above, we maintain a record of all your high school information. You will not see this information appear in your community college portfolio, as your transfer scholarships are awarded based on the achievements and activities in community college, not high school. However, you can earn micro-scholarships for college coursework that you took during high school, such as with dual enrollment.
Q: Can I convert my account back?
A: Once your account is converted to a community college account, you cannot change it back.
Q: When can I transfer my account?
Q: You can convert your account any time starting July 1st after your senior year — right after you graduate from high school. For example, if you graduate from high school in May or June 2020, you can convert your account starting July 1, 2020. If it's before July 1 of your high school graduation year, or if you're not starting community college immediately, you can get an email reminder to convert your account later.
For other questions about how account conversion or how community college students can earn micro-scholarships towards transfer, visit our help center.
RaiseMe Pro Tip: Already in community college without a RaiseMe account? No problem. You can you sign up for RaiseMe anytime in community college to start earning micro-scholarships for your future transfer to a four-year institution.
You may also like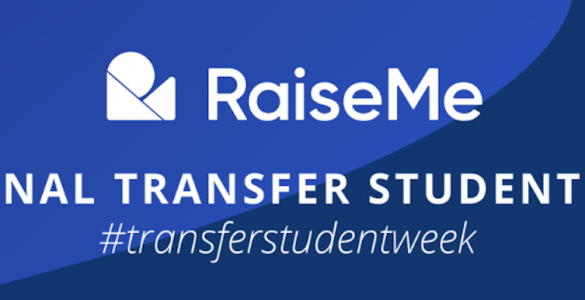 Join RaiseMe in celebrating National Transfer Student Week October 19th-23rd. This is a week to celebrate our students, connect them with resources, and to...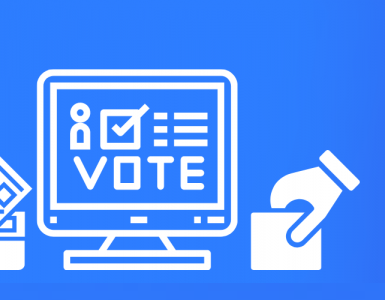 This fall, more than 80 colleges and universities on RaiseMe are offering micro-scholarships to community college and high school students for civic engagement...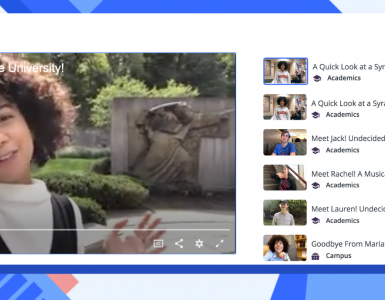 Now on RaiseMe, you can watch videos created by real students to get a true sense of college life and find out what schools are right for you.