Creative Ways to Save for College: Abby, Palomar Community College '21
Getting into college, let alone affording college and succeeding when you're there, is challenging. From a lack of knowledge about the college process and experience to financial needs, research shows that the adversity behind college access and success grows significantly if you are a first-generation student.
Despite the hurdles, first-generation students make up a significant portion of students enrolled in secondary education – one third! This is something to be proud of, but at RaiseMe, we want to help all first generation students matriculate to college. It's in stories like Abby's below that we can help to make that happen, by learning from the students who have done it themselves.
Abby G. of Palomar Community College continues our series on Creative Ways to Save for College and her story exemplifies the obstacles and triumphs of being the first in a family to make it to college.
Meet Abby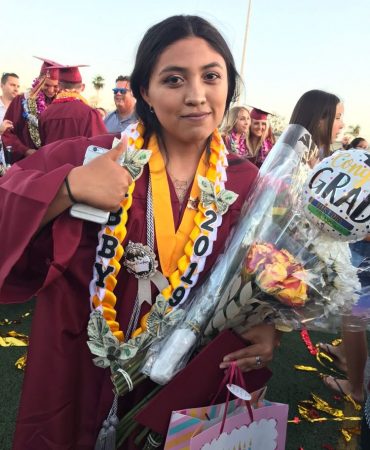 Introduce yourself!
Hi! My name is Abby. I went to high school at Mission Hills High School in San Marcos, California. I will be attending Palomar Community College for my first two years, and hopefully will be transferring the University of Missouri right after.
Palomar Community College is about a 5 minute drive from my house in my hometown!
Why was community college the right decision for you?
In high school I was in a program called AVID which is essentially all about helping students maneuver their way through the college process, and it's really helpful. My AVID teacher was a big influence in the decision I made and really helped me understand the financial aid process.
I really had to take into account that I was being raised by a single mother, and she wasn't going to be able to put down all the money. My AVID teacher told me that you could either take the community college route or take the California State route, and then transfer from one of those two. So with his help, I came up with a plan to just go to a community college first and then transfer to the University of Missouri.
How did decide on Palomar and the University of Missouri?
It was really difficult for me at first to decide where I wanted to go because initially the University of Missouri wasn't my first choice. It was actually a performing arts school in Los Angeles called the American Musical and Dramatic Academy. I was going to major in Music Performance to be a singer, so I initially thought that was where I wanted to go. But then my major changed, and I started having second thoughts about if that was really where I wanted to go.
My major was changed based on an audition at the performing arts college itself. I had gone in auditioning for the musical theatre program, but then I had to perform a monologue and a song from a musical. The judge that was covering my audition actually wrote down that she thought my acting came off a lot stronger than my singing, which I thought was very surprising. I had never really considered myself an actress, and it threw me off the rail a little bit. I had to ask, 'is acting a route that I really want to take?' And it made me start wondering if the LA school was still the college I want to go to or should I keep looking at other ones. Eventually, I thought to myself that it wouldn't hurt to take an acting route. I am still considering double majoring in both subjects.
I was trying to keep my options open. I had been accepted into the University of Missouri, so I started looking into that school and it really captured my attention. The campus is beautiful, and I know people who live there so I thought this is where I wanted to go. The University of Missouri also has a really good acting program and a really good music program, so I thought it would be beneficial for me to go there.
RaiseMe Insight: Determining your best fit college can be a daunting process. But Abby handled it excellently by factoring in her major and giving herself the time and thinking space to make a decision. It can often be the case that the first major or school you come across is not the right fit for you, and that is entirely alright.
Take us back to High School and tell us more about the AVID Program. When did you start thinking about college?
I joined AVID my freshman year of high school. College was always in the back of my mind my freshman year, my sophomore year, but I didn't really start focusing and thinking about it until my junior year, which is when my teacher was telling the students to look up colleges that were strong in our majors and to look at cost. I really got deeper into it my senior year, which is when the entire college application process started. It was really hectic and stressful sometimes, but it was all worth it because the AVID teachers that were there were really helpful and really supportive in guiding us in how we were supposed to do it.
You mentioned cost as a reason behind choosing community college. Can you elaborate on how the cost of college factored into your application and enrollment process?
Because raised by a single mother, I really had to take that into consideration. I really wanted to get the full four year experience at the University of Missouri [right away], but my mom was going to have to take out loans and I knew she didn't have that kind of money. So I had to think to myself and ask myself, how was I going to pay for this? What other options do I have?
My AVID teacher told me, "I suggest you take the community college route. You won't be in debt, you won't have to pay that much money" And I actually thought that was a very good idea, so that was one factor that played in. Another factor was that I was still going to have to pay for books and tuition and stuff like that.
RaiseMe Insight: When choosing your best fit college, be sure to consider all of your options. Community college is a tremendous opportunity for students, like it was for Abby. On RaiseMe, you can actually continue to earn micro-scholarships with your grades and activities while in community college that will go towards your transfer school's financial aid package.
In addition to community college, what else is helping you save money for school?
Since my sophomore year, I've been collecting bottles and cans and going out at the end of the month to sell them. [Half of my earnings went to] my phone bill and the other for saving extra money for college expenses.
During community college, I am going to look for a job and hopefully save money from that to be able to pile up money little by little to pay off my expenses once I do transfer. I also want to do work study once I end up transferring to the University of Missouri so it can help me pay off my tuition.
What advice would you give to other students as they think about thinking about college for college?
Really keep your options open and be open minded. If you really feel like you're struggling, go to a counselor, a teacher or a trusted adult that went through the college process. You should ask for their opinions and look at the situation you are in so they can figure out what route is best for you.
RaiseMe Insight: As a first-generation student, Abby sought advice outside of her family for guidance on the college process. AVID was a phenomenal resource for her. Whatever your situation is, be proactive to seek help and advice when you need it. The path to college is difficult for everyone, and your counselors and educators are there to help.
Editor's Note: Edits have been made for reading clarity.
You may also like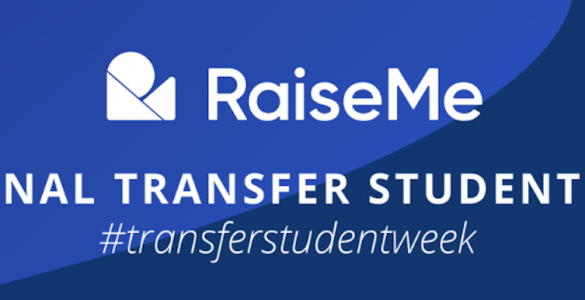 Join RaiseMe in celebrating National Transfer Student Week October 19th-23rd. This is a week to celebrate our students, connect them with resources, and to...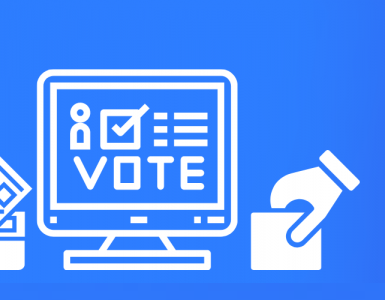 This fall, more than 80 colleges and universities on RaiseMe are offering micro-scholarships to community college and high school students for civic engagement...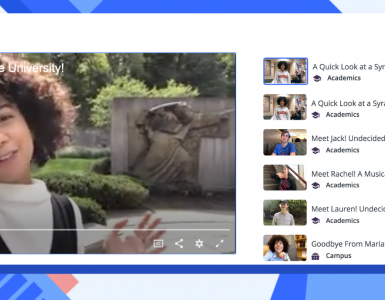 Now on RaiseMe, you can watch videos created by real students to get a true sense of college life and find out what schools are right for you.