You got your financial aid award. Now comes the hard part.
National College Decision Day has come and gone. For millions of students, it's the end of a process that, for many, started nearly a year ago. For some truly diligent shoppers, the college process began September of their junior year.
If life imitates art, college acceptance is a lot like beating the first level of a much larger (and much harder) video game. The next level is figuring out how to pay for college. Unfortunately, it's usually just as complicated and frustrating to conquer as its predecessori.
One of the first things you or your child probably received after the acceptance letter was a financial aid award letter
After letting you know whether or not you were accepted, this is probably the next most important thing you'll get from a school, since it's supposed to help you answer two very important questions:
1) Can I afford to go here?
2) How am I supposed to pay for it?
A few weeks ago, we asked our Instagram followers to answer several poll questions around award letters. The results confirm what we and many families know: What should be straightforward and simple is anything but
42% said they did

not

know the difference between grants and loans.
Just 25% said they knew what the difference between unsubsidized and subsidized loans was
Only 28% said they thought the cost of attendance or the out-of-pocket cost they'd need to cover was clear on their aid letter.
Paying for college usually means spending thousands-of-dollars per year. Numbers like these are scary for millions of families.
Grants are free money that don't ever need to be repaid, yet nearly half of students and parents say they can't tell from the letter which is which. Only one in four can easily figure out the part of the bill they're responsible for covering.
Yes, these are results from an Instagram poll, and yes these findings are highly unscientific, but they do match a lot of the research we've done in recent years that tries to understand what confuses people about college award letters. Check out the heat mapping on this sample award letter: We asked thousands of students and parents to tell us which numbers were most confusing. If you're feeling confused, too, you're not alone
Probably the hardest finding to swallow from our survey is that one in five people said they got their letter but don't know what they're supposed to do next with it: That's 20%. That's important because these notifications aren't just trophies to be framed and put up on a wall.
If anything, award notifications are the starter pistol that kicks off the race to get funding locked down. It's hard to complete a race when you're not sure how to start it.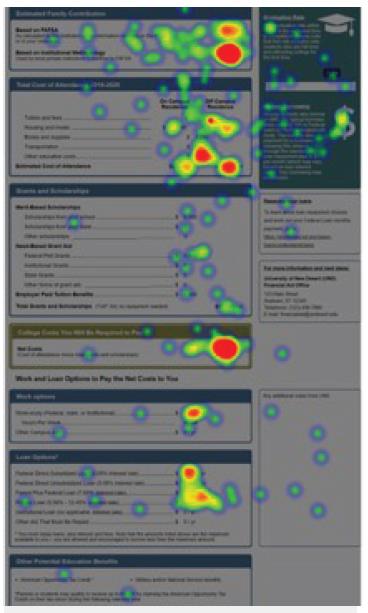 So, what should students and parents do?
First, cut through the haze. Focus on a couple critical keywords and phrases. Every letter will show some sort of "total cost of attendance" that can by eye-poppingly (yes, we're making that a word) large. But what you should be focused on are numbers next to phrases like "net price" or "out-of-pocket." These numbers capture how much you're expected to pay after all the free money – like grants and scholarships – have been applied.
Second, remember that not every cost you see is required. Sure, everyone must pay tuition and fees and it's hard to study without books and supplies. But if you see a number like $1,200 for transportation costs, that may make sense if you rely on public transportation to get to school every day. It may not make sense if you're living on campus.
And finally, remember that it's not over until it's over. If the out-of-pocket cost or net price feels high, there's still lots of time to apply for third party scholarships. There are literally tens of thousands of scholarships ranging from $500 to full-rides, and many of them have deadlines that extend into late spring or summer.
Another potential option: Check with employers. Many companies provide employees or children of employees with free money to help cover tuition, as well.
Still need to find some funding? Call your school. Financial aid offices do a lot of form processing, but one of their most important (and preferred) roles is counseling borrowers who are unsure about their options. There's almost no question they haven't heard. I can also promise you there's no judgment on the other side of the line; they know many people have questions they feel like they ought to know the answer to and might be embarrassed to ask.
Like the process of applying for college, paying for it can feel just as long and uncertain. Nevertheless, just like applying for colleges, there are people, resources and small tricks that can turn what feels like a challenging process into an extremely rewarding one.
College is not a small investment, but it doesn't have to be an unaffordable or difficult one, either.